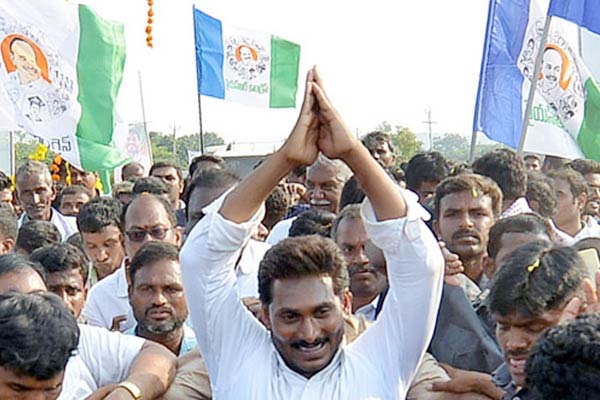 It is known news that Centre told the Supreme Court couple of days back that the steel plant in Bayaram and Kadapa are not feasible, as the Steel Authority of India Limited (SAIL) found the project to be financially unviable. This led to agitation by Telugu people against BJP. Several leaders from TDP have condemned this and also questioned the silence of opposition party leader Y S Jagan Mohan Reddy on this. Jagan responded on this issue through Twitter and called this is TDP betrayal.
Jagan tweeted – "Kadapa Steel Plant is AP's rightful aspiration.Centre's affidavit against the plant questions its sincerity towards AP's welfare. TDP, having knowledge of this all the while, raising concern only now, is sheer betrayal. YSRCP demands categorical assurance from Centre on the plant "
It is surprising (rather not surprising?) see Jagan seeking "assurance from center" and calling it "sheer betrayal by TDP". Everyone knows, it is Center that should grant the steel plant. If it is not done, despite promised in bifurcation act, it is betrayal of the centre. Jagan is using soft words like "questions sincerity" for BJP and strong words like "sheer betrayal for TDP" only shows his collusion with BJP that is completely ignoring AP state.
Chronology of the events is as below:
AP reorganisation act during bifurcation : There were several things that were assured to Andhra Pradesh in AP reorganisation act during bifurcation. One of them is Kadapa steel plant. 13th schedule of AP Reorganization Act mentions a steel plant to be granted to Andhra Pradesh and Telangana each.
After 2014 elections: But once came to power, BJP led Central Government started saying the project is not feasible. But after the states were bifurcated, Steel Authority of India Limited was asked to examine the case and SAIL had said that setting up of a plant is not financially viable.
Task force in 2016: Andhra government raised objection over SAIL feedback and centre formed a task force comprising SAIL, Rashtriya Ispat Nigam Limited (RINL), National Mineral Development Corporation (NMDC) and two other companies was formed in 2016 to conduct a study on the feasibility of the project.
2017 December: As there were still apprehensions over the project, a delegation of TDP MPs and MLAs met Vice President Venkaiah Naidu and the Union Minister, Chaudary Birender Singh in December last year and after that they were sure of getting this steel plant.
2018 June: Center tells Supreme court that both Bayyaram and Kadap steel plants are not feasible.