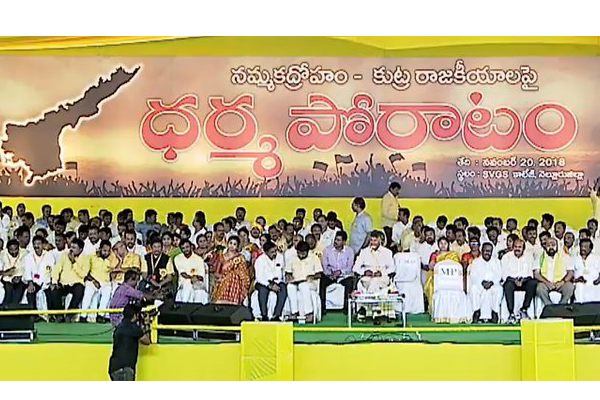 AP CM Chandrababu Naidu visited Nellore district when he addressed a 'Dharmaporata Deeksha' to highlight the injustice being done to AP. He once again attacked the Central government, saying that the BJP will not get a single vote in AP in 2019 elections. The people are very angry as the Modi government has betrayed them after making so many promises to them in 2014 election.
CBN asserted that though AP was left with Rs 16,000 crore deficit, the Centre had given just Rs. 3,900 crore. For the capital city also, minimal funds of just Rs. 1,600 crore were given.
Mr. Naidu said that it was during the TDP government that Hyderabad had grown into a global city. The international airport was developed with lots of hard work and commitment at that time. There Outer Ring Road was also developed.
CBN said that for the development of Amaravati capital, PM Modi was blamed by AP people for giving just a jar of water and fistful of soil but didn't care to give enough funds.
He said that the Modi government is giving lots of funds to other cities but not Amaravati. Very unjustly, Centre had taken back funds sanctioned for assisting in development of backward regions in AP.