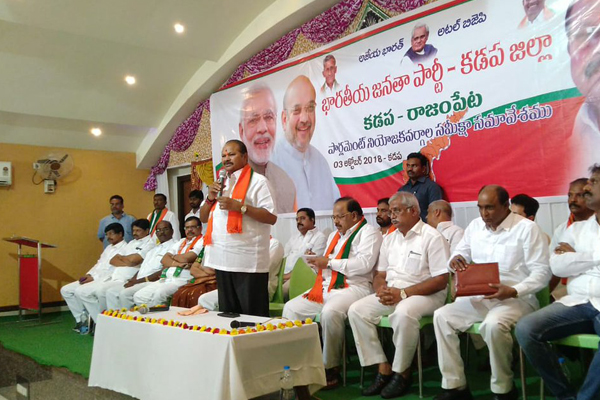 Given any opportunity, BJP leaders in AP are criticising what they describe as a centralised development in Amaravati capital city and its nearby districts and their related projects like multi-crore Polavaram.
The reasons for BJP's changed strategy are understandable as they come in the face of increasing loss of people's trust in different regions of AP caused by TDP's bitter criticism on special status and reorganisation promises.
BJP is now saying Rayalaseema projects and this region's developmental works are being neglected while those in other parts of the State are given greater importance by TDP regime. The BJP leadership is of the view that it should at least make big gains in some parts by provoking Seema sentiment.
This is why that during his recent visit to Seema, BJP state president Kanna Lakshminarayana said that the government was ignoring Handri-Neeva and Galeru-Nagari irrigation projects at the cost of welfare of farmers in the region.
He mocked at the TDP, saying Chief Minister Chandrababu Naidu has been visiting Polavaram every week but not showing one-tenth of this interest to Seema projects.
BJP is also criticising TDP on the issue of its failed promises made in 2014 elections with regard to Seema region development. Proddatur Milk Factory was not revived till now and there is no move to restore Chennur Sugar Factory. In CM's own district, the public sector dairy was not revived nor any effort was made towards that goal till now, Kanna said.
On its part, it is well known that TDP is criticising BJP Central leadership and PM Modi over failed promises of 2014 state division.
Finally, all the parties are coming out with their election manifestoes by listing same old promises with new catchlines once again. Ultimately, it is for the people to decide which party failed less and which failed more.