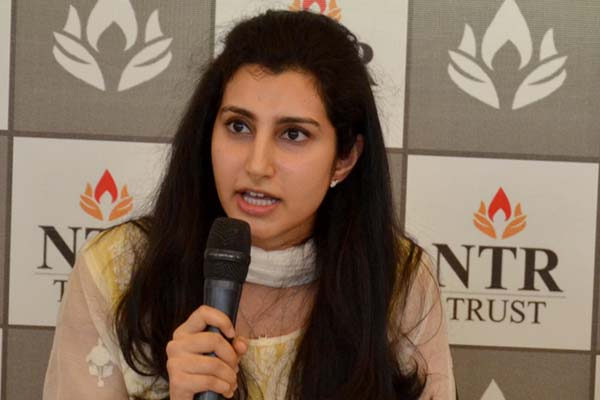 Vijayawada: Nara Brahmani, wife of AP Chief Minister N Chandrababu Naidu's son Nara Lokesh and daughter of Hindupur MLA Nandamuri Balakrishna, is seen as the new hope for the ruling Telugu Desam Party in the years to come. Brahmani, an engineering graduate and a Business Administration post graduate has proved herself as best orator during the International Women Parliamentarians convention held in February this year in Vijayawada. Her oratory skills were appreciated by everyone at the convention and since then, she had been the most favoured woman leader for the party.
The rank and file of the party have been looking towards her as their future leader. A good number of the party leaders, particularly those from Krishna and Guntur districts, have been lobbying for her entry into the party for some time. The dominant Kamma community from Krishna and Guntur districts, which looked at Daggubati Purandheswari as their mascot after N T Rama Rao, is now looking at Brahmani. In fact, at one point of time, these leaders have suggested to the party chief Chandrababu Naidu to protect Brahmani as the party candidate for Vijayawada Lok Sabha constituency for the next round of elections. It is said that Chandrababu Naidu is actively considering this proposal.
As executive director of the family's Heritage Foods, Brahmani played key role in taking the firm to the national level in the last two years, in the absence of Chandrababu Naidu and Lokesh, who have given their fulltime to politics leaving the family business to Bhuvaneswari and Brahmani. She had expanded the Heritage Foods to the north recently and proved her talent in the business too.
With the party celebrating the Mahanadu at Visakhapatnam now, the venue witnessed discussions among the leaders about the need for the entry of Brahmani into the party. Senior leader A R Mohan had initiated private discussion among the leaders at Mahanadu pressing for an official decision seeking the entry of Brahmani into the party activities. Interestingly, she has been looking after the NTR Trust activities and the leaders feel that it is the right time for her to enter direct politics.
Having decided on Vijayawada Lok Sabha Constituency as the political base for Brahmani, the Chief Minister is likely to take some more time to make the announcement on the Nara-Nandamuri family member to be the successor in politics.