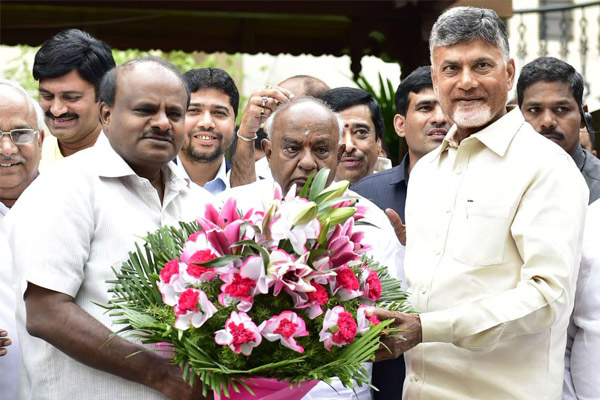 AP CM Chandrababu Naidu made a one-day visit to Bengaluru today and took blessings of former prime minister Deve Gowda for formation of anti-Modi front at the national level. He held a 40-minute long discussion with Deve Gowda and Karnataka CM Kumaraswamy at their residence in Padmanabhanagar.
Deve Gowda asked Naidu to take an active role in bringing together all like-minded secular parties to oppose BJP unitedly at the national level. Kumaraswamy said that his father and Naidu were making best decisions regarding the formation of the front against BJP.
From the beginning, TDP has got good connections with the Deve Gowda family. Naidu had also extended full support to the Janata Dal (Secular) and Congress combine in Karnataka elections. The Telugu voters in many constituencies played a key role in preventing BJP from forming a full-fledged government there though it emerged as the single largest party. JDS got lesser number of seats but the Congress made Kumaraswamy CM to prevent BJP from taking any political advantage.
Today's meeting of Naidu and Deve Gowda was seen as a significant development for formation of anti-BJP front.
Telugu360 is always open for the best and bright journalists. If you are interested in full-time or freelance, email us at
Krishna@telugu360.com