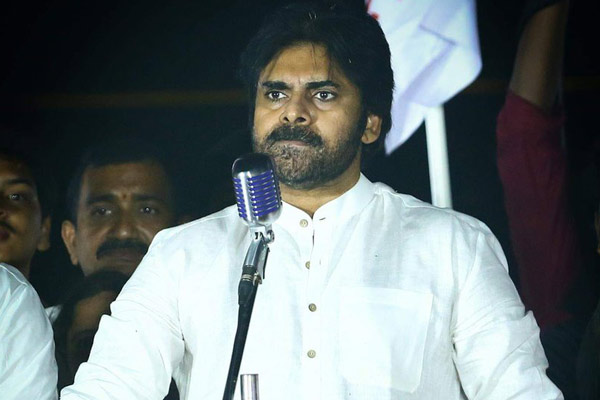 Jana Senani Pawan Kalyan is sharpening his attack on the ruling TDP and main opposition YSR Congress Party. He says Jaganmohan Reddy is receiving his share of bribes from irrigation projects' contractors in AP. His contention is CM Chandrababu Naidu himself is making sure Jagan receives his share in order to avoid his criticism. Pawan has made these comments during his tour at P. Gannavaram area in East Godavari district.
Pawan asserted he would continue to attack Jagan since he did not live up to his expectations as the opposition leader and he did not expose TDP government's failures on the floor of the Assembly. YCP leaders were unnecessarily worried when Jana Sena is criticising their leader for all his failures and inabilities to confront the ruling TDP. Pawan has spoken about exploitation of natural resources in the lush green Konaseema area, saying that there is not a single leader who can rise against unchecked misuse of gas resources by Reliance in the area.
Pawan deplored the gas resources exploited from Konaseema are being diverted to Gujarat and other states even as the gas companies were laying vast pipelines through the length and breadth of the area causing untold misery to the local populations. The natural beauty and green cover and livelihoods are at stake in this area.
Jana Senani recalled one union minister having stuck to his demand and brought railway zone for his region by bringing enormous influence on the Centre but no AP leader is making such efforts. Pawan asserted his patriotism and people's trust are his sole investment and he would continue to fight for solutions to basic problems.