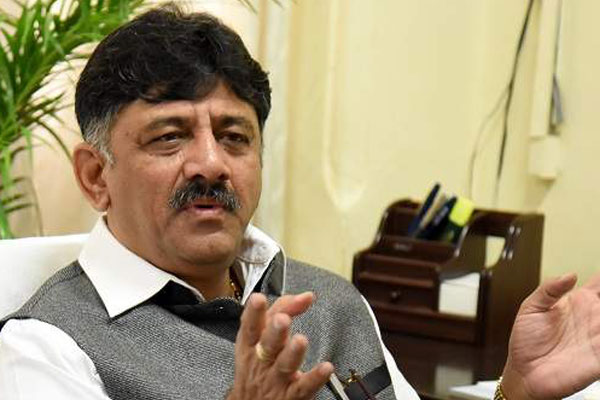 Yedyurappa finally resigned. All the efforts of Gali brothers and BJP leaders to woo congress and JDS MLAs have gone drain as Congress-JDS alliance was able to safeguard all their MLAs from accepting ridiculously lucrative offers given by BJP. Now, yet again, the man behind saving Congress-JDS MLAs has become talk of the country's political circles. He is none other than D.K. Shiva Kumar.
2018 Congress-JDS episode: Doddalahalli Kempegowda Shivakumar, or D.K. Shiva Kumar or shortly DKS as he is known in Karnataka is the man behind handling this Congress-JDS MLAs and ensuring none of them go to BJP clout. He was the one who coordinated the buses, kept locations secret, changed hotels on the last minute so that it became literally impossible for BJP to reach these MLAs. He even brought two "missing" MLAs — Pratap Gouda Patil and Anand Singh — back into the party with the help of his brother D.K. Suresh Kumar. Not only now, even earlier also he was the last resort for Congress high command to 'save' their own MLAs from changing the camps. Earlier in 2002, he first made national headlines when he saved Congress leader Vilas Rao Deshmukh's government in Maharashtra by doing similar 'resort' politics . In 2017 also, during Ahmed Patel's MP election to Rajya Sabha he was the one who handled 44 Congress MLAs of Gujarat and made sure they vote for Congress candidate Ahmed Patel.
Who is he: Shivakumar belongs to Vokkaliga community, i.e. same as Deve Gowda community. Shivakumar won his first Assembly election in 1989 by defeating none other than the giant of Karnataka politics H D Deve Gowda. DKS is among the wealthiest ministers in the country. He was one of the richest candidates in Karnataka elections with declared wealth of Rs. 251 crore. He was also Cabinet Minister in the Government of Karnataka for the energy department. He and his family been linked to several cases of illegal mining and transporting granite illegally, and improper land distribution. There have been I-T raids on him on several occasions.
2002 Vilas Rao Deshmukh episode: In 1999 Maharashtra elections, no party got full majority. Congress and NCP formed alliance with Congress man Vilas Rao as CM and NCP man as Dy CM. BJP and Shivasena were in opposition. In 2002, the Congress-led Vilasrao Deshmukh government in Maharashtra was about to collapse after Maharashtra Governor, P.C. Alexander has set a 10-day deadline for Mr. Deshmukh to prove his strength on the floor of the Assembly. Fearing a defeat Vilas Rao moved his MLAs to Karnataka ruled by Congress and SM Krishna was CM. S.M. Krishna entrusted the responsibility of keeping the MLAs safe to DK Shivakumar, who was then Urban Development Minister in SM Krishna cabinet. Shiva Kumar herded all the MLAs to Eagleton Resort in Bengaluru and hosted them for a week. On the day of trust vote, DKS himself escorted all the MLAs back to Mumbai and the Vilasrao Deshmukh won the floor test and government survived. With this, Shiva Kumar hit the national headlines. Result: Since then, he became close to the Gandhi family.
2017 Ahmed Patel's Rajyasabha election episode: In 2017, Ahmed Patel contested for Rajya Sabha and Congress had sufficient number of MLAs in Gujarat to elect Patel. However, BJP tried to defeat Ahmed Patel, Sonia Gandhi's political secretary. Then also Shivakumar came to the rescue of Congress as he had sheltered the Gujarat Congress MLAs. BJP government tried to frighten DKS by having him raided by the Income Tax and even Enforcement Directorate, but he did not bother. Finally Ahmed Patel won. Result: Grateful Ahmed Patel called DKS personally to thank him for facilitating the stay of the 44 Gujarat legislators in a Bengaluru resort and told he will remember DKS's loyalty and courage shown even during your toughest hour of crisis.
2018 Congress-JDS MLAs episode: Now, everyone in Congress know his abilities and once again congress entrusted the entire responsibility to him as he now has the image of loyal leader as well as Last "resort" for Congress.
Future of DKS: DKS never hesitated to display his ambition to become the Chief Minister of Karnataka before he retires from politics. In fact Siddaramaiah always felt him as threat for his post. Now he is demanding Dy CM post in Congress-JDS government but Revanna, brother of Kumaraswamy objecting for that. We will have to wait and see what is in store for DKS in future
-ZURAN