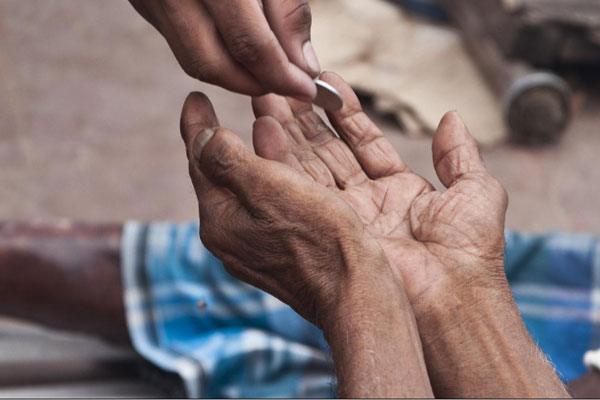 The Prisons department has shifted as many as 235 male beggars and 125 female beggars, picked up from different parts of the city.
HYDERABAD: In its bid to make Hyderabad a begging free city, the Telangana Prisons department will start rewarding anybody who identifies beggars with Rs. 500 from December 25.
The Hyderabad Police has already prohibited begging till January 7, 2018 on the city's roads, saying it causes nuisance and danger to vehicular traffic and pedestrians. "Citizens can report on any person begging to Prison Control Room. From December 25, the Prisons Department will offer Rs. 500 to anyone who identifies beggars in Hyderabad and informs to the officials," State Institute of Correctional
Administration (SICA) Vice Principal M Sampat said today.
The Prisons department, in coordination with the police and municipal authorities, has shifted as many as 235 male beggars and 125 female beggars, picked up from different parts of the city, to the 'Anand Ashrams' or special homes located in Chanchalguda and Cherlapalli in the city as part of a drive launched on October 20.
The officials had clarified that the drive has nothing to do with the upcoming three-day Global Entrepreneurship Summit (GES) 2017, slated to begin here on November 28, which will be attended by Prime Minister Narendra Modi and US President Donald Trump's daughter and advisor Ivanka Trump.
Mr Sampat said the Prisons and Correctional Services Director General V K Singh had written to the Telangana government stating they will take up rehabilitation of beggars on the lines of several initiatives taken up by the Prisons department to rehabilitate prisoners, and accordingly government set up special homes for beggars.
Mr Sampat said that beggars have been given counselling in the first phase and around 250 of them were handed over to their relatives after an undertaking that they would not beg in future.
Ads by ZINC
He said they have taken photos and finger prints of beggars and also recorded their Aadhaar card numbers so that they would be identified if they resort to begging again. "We are maintaining data base and have shared the same with police and civic authorities. In the second phase, if anyone of them is caught again begging, they will be sent to
jail under the Prevention of Begging Act 1977," said Mr Sampat, who is also the in-charge of the Chanchalaguda Anand Ashram.
He said beggars are being segregated in different categories and various NGOs are being roped in to admit beggars who are elderly, mentally ill, and physically challenged. "Plans are also afoot to provide employment to these people at petrol bunks run by the Prisons Department," he said.
Citing a municipal survey conducted two years ago, he said a chunk of around 6,000 beggars in the city do so willingly.
Prisons and Correctional Services Director General V K Singh said the announcement of declaring award of Rs. 500 for information about beggars will be made on December 25 and it will come into force from that day itself.
He said the Prisons Department's drive against beggars will be deferred till December 1 until the departure of foreign dignitaries as media reports have "confused" public by linking this initiative of the state government in general and Prisons Department in particular to the visit of a foreign dignitary (Ivanka Trump). "At the Ashrams, the inmates are provided with food, shelter, medical treatment, counselling, skill upgradation and subsequent employment in Prisons industries," Mr Singh said, adding those who are crippled physically, infirm and quite old will be accommodated in the Ashrams.
Source : PTI