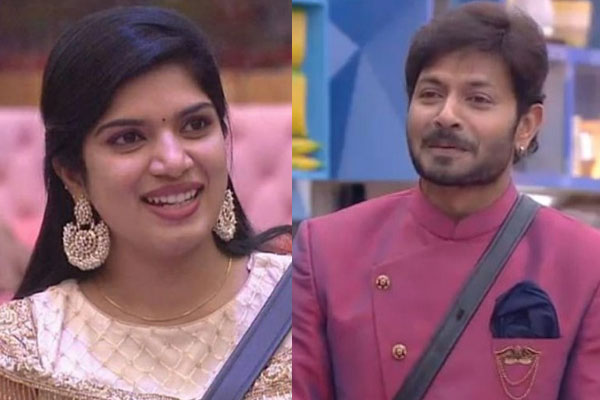 Deepthi nallamothu, who is among the finalists for Bigg Boss 2, is emerging favourite among people who do not want Kaushal to win. Deepthi nallamothu, who is known to Telugu audience as an actress in Ravi Teja Bhadra movie and as TV9 anchor joined Bigg Boss show in celebrity category.
Deepthi started on low note:
She has started on a low note as she was seen playing safe game in the initial episodes. She was also targeted by audience for not taking a stand when Kaushal cheated in Men versus women game. However, her fighting Spirit during captaincy task and other tasks is appreciated by the audience. But she didn't have luck and lost in the game several times. But her perseverance is appreciated by many. As Nani told in the last week, her graph has been increasing very steadily since the start of the game.
Deepthi vs Kaushal in social media:
But her opponent's, especially Kaushal fans, have been targeting her on social media by blaming that she has a tie up with an agency and she is getting votes only because of that agency. They urged Bigg Boss team to investigate into this. However some netizens retaliated to this by saying if such investigation happens, it will have to be done right from the beginning of the show and especially it should be done on Kaushal Armies. But after seeing roll Rida eviction last week, Kaushal getting so many votes even during the weeks when he made blunders, spike in Deepthi's votes in past 4 weeks, it seems Big Boss doesn't care whether the votes are coming from genuine audience or from agencies. Bigg Boss team is just concerned about how many votes each contestant is getting. Probably Bigg boss team is of opinion, the votes by agencies may not completely alter the overall opinion of public.
Why Kaushal anti-fans consolidating towards Deepthi:
By seeing all this, many people are voting in favor of Deepti even though she is not their favourite contestant. Because there are as many fans to Kaushal as many anti fans. In fact there are more people who hate Kaushal than the people who love Kaushal. After all, every audience has right to either love or hate any contestant. Kaushal is a typical personality and people either strongly love him or strongly hate him. So all these haters of Kaushal, who are fed up with Kaushal army's over enthusiasm and their abusive trolling on women housemates, are consolidating to vote for Deepthi as it is the practical way to defeat Kaushal.
Voices raising about woman contestant winning the title:
Also there have been people voicing about a woman contestant winning Bigg Boss title this time. This also may help Deepti getting more votes. Moreover her sensible speech during campaigning task also struck chords with many people. The way she pointed out Tanish calling her "Amma" and Samrat calling her "Akka" even though they don't have any blood relation, liked by many women audience.
We will see analysis on further housemates in subsequent articles.