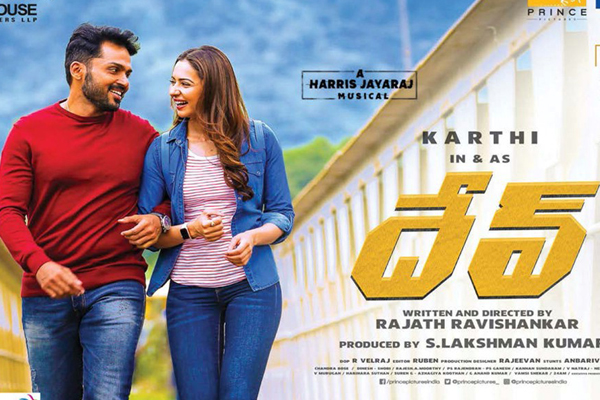 Dev Movie Review Rating
Telugu360 Rating 1.5/5
Story:
Dev, a Ukraine returned bachelor from a rich family, is a photographer, adventurer,and mountaineer. Meghna is an entrepreneur based out of San Francisco. Dev who sees Meghna profile on Facebook, start trying for her. Both meet in India and friendship starts. However, as in any love story, conflict starts around Dev's profession. Rest of the movie is about how the couple resolve it
Analysis:
Dev is a stylish but zero substance film that tries to be a love story. Initial few minutes of the films give the impression that we are about to watch a film with novelty. But, soon the audience wishful thinking shatters. After taking off promisingly, debut director Rajath Ravishankar struggles to narrate the film in an engaging manner. The characterizations lack clarity, especially for the hero. The director has added all wishful thoughts to the Dev character which is a photographer, biker, nature lover and mountaineer who climbs Mount Everest, civil architect, lover boy and what not. Similarly, a self-driven woman, who has been raised in the USA, who became an owner of a product company by age of 25, behaves like a typical filmy girl in her India visit. The love story between Dev and Meghna is bland, lacks any strong conflict point. Prakashraj character is another sad part of the film. Throughout of the film, he stares at his son Dev with love, says "Ninnu chusthunte mee amma gurthukuvastondhira " dialogue repeatedly. Ramyakrishna(heroine's mother) has no role in the proceedings. After a boring first half, the second half goes on even more directionless.
There are many songs but the audience may not remember one by the time they exit. However,the background score is good. Cinematography, Background score,Locations, Visuals etc Technical values are superior
Performances: Karthi and Rakul are okay, Ramya Krishna & Prakash Raj's acting skills are unutilized. R J Vignesh played the hero's friend role which got more screen time than the hero at times. His character is annoying. Amrutha Srinivasan is ok as the hero's friend
Positives :
Negatives :
Poor story, Flat narration
No Entertainment
Unreal characterizations
Verdict:
Dev is easily one of the most boring movies in recent times.Hero characterization is unclear with half baked ideology. Karthi and Rakul are okay,Ramya Krishna & Prakash Raj's acting skills are unutilized. An avoidable film even if you're a fan of any of the lead actors.
Telugu360 Rating 1.5/5