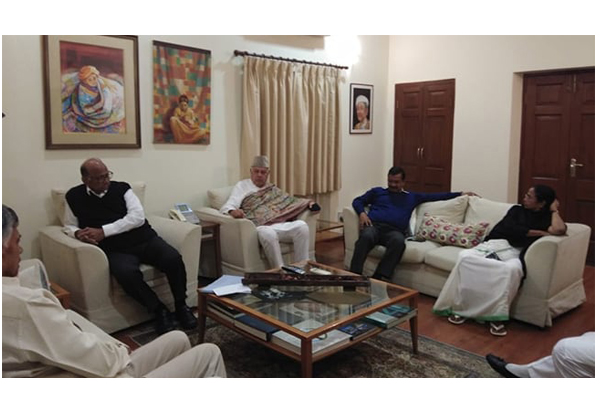 The anti-BJP leaders changed their tactic for the coming general election. Rahul Gandhi, Mamata Banerjee, Sharad Pawar, Chandrababu Naidu, Farooq Abdullah and Kejriwal have decided to form a pre-poll anti-Modi front on the national level. The decision is made after Chandrababu insisted on this because of the existing rules that an alliance having the highest number of MPs will be invited to form the government at the Centre after an election.
The Sarkaria Commission recommendation and the Supreme Court order are the basis for this guideline. This is why the parties waiting for alliance till after the poll stand to lose the immediate chance. Mamata Banerjee has also agreed for this and she has asked Rahul Gandhi to come out with the common minimum programme.
These anti-BJP leaders are also afraid about the neutral leaders like Mulayam Singh Yadav whom Modi may win over after the elections to form the BJP government. The anti-Modi leaders are now all set to close all options for the BJP in the event of their parties getting enough numbers. For this, only a pre-election front is the effective answer.