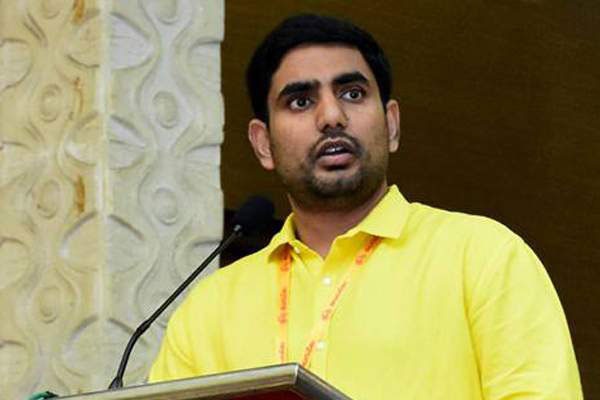 Four months after taking oath as the Minister Panchayath Raj, Rural Development, IT&C, Nara Lokesh says it is difficult for youngsters to be successful in politics. He said that he is moving forward with his political career by abiding to the principles of his grandfather and founder of TDP NT Rama Rao.
In these 100days, he said that he has learnt a lot about Andhra Pradesh Politics using the feedback from peers and his dad. Furthermore, he wants to bring about policies where in youngsters can be accommodated into politics.
Speaking to leading Telugu News channels, about his portfolio IT&C, Lokesh said in Andhra Pradesh IT&C is a big challenge and especially with situations which are problematic. He is certain that Vishakapatnam will compete with all other IT cities indisputably. He said HCL is one big players, and the government is in discussions with Franklin Templeton. He said to create the eco-system in Andhra Pradesh, the government is extensively focusing on new age technologies – like Fintech, Drones, block chain, cyber security and IOT.
He said that he is appealing to Telugu NRIs to invest in the state and that there is momentum in that direction. He said that in last 4months, 7 policies were brought by his ministry to cater to the needs of different sizes of IT firms.
Minister for Panchayath Raj and Rural Development aspires to strengthen the village infrastructure by laying roads in villages, giving LED street lights, underground drainage system, constructing permanent Anganwadi centers, Panchayti offices, providing current and LPG.
He said that by 2019 all the villages will have cement roads. Lokesh hopes that in the next one year, 5000kms and the following year 6000kms of internal village roads will be laid. Also as part of special package from centre, Lokesh requested the CM to allot Rs 4000cr for interlink roads for villages.
He says they have been very meticulous rolling out NREGS. After he became a minister, he put up third party quality inspection to avoid discrepancies when cumulating funds from centre, state and finance commission.
By October2,2018 – Lokesh is confident that 40lakh led street lights will be set up in villages across Andhra Pradesh. As of today, 20lakh lights have been installed.
The Minister said that as part of the Special package from the centre, the Chief Minister promised to allocate 8000 crore rupees for drinking water. His team is working on drafting the water grid program to give tap water to all the households in AP. By 2019 he is not sure if he can give drinking water to everyone, but wants to ensure at least 6 districts will get water.
Speaking about Amaravati, Lokesh said that if it takes time to construct a home, it would take a lot of time to construct Capital. He says, 50years down the lane, people should not repent the structures, so the government is taking time to deliberate on designs.
He said that until Amit Shah or Narendra Modi break ties with them, BJP is an ally of TDP. He said that Pawan Kalyan is a friend of TDP and that they will always work together on people's issues.
Lokesh said that Jagan will do his Padayatra on the cement road laid by TDP, under the street lights setup by them and will meet the people who are withdrawing pensions from the government.
The TDP legislator came down heavily on Opposition leader's channel Sakshi and called it "Donga paper, Donga Channel". He says the paper runs with the strategy "If you cannot convince people, confuse them"
Lokesh held that not every CM's son is like Jagan. For the past 30 years there were no allegations against him, but suddenly in last three years a lot of accusations of corruption surfaced against him. He said that the opposition makes these allegations without any proofs. The Minister reminded that he always challenged Jagan for debate.
Lokesh alleged that from the time he became minister, not one YSRCP leader has come to him requesting funds for their constituency. He accused the YSRCP legislators and Sarpanchs for neglecting their constituencies.
While TDP is going ahead with Development Agenda, he said opposition is displaying confrontation behaviour.