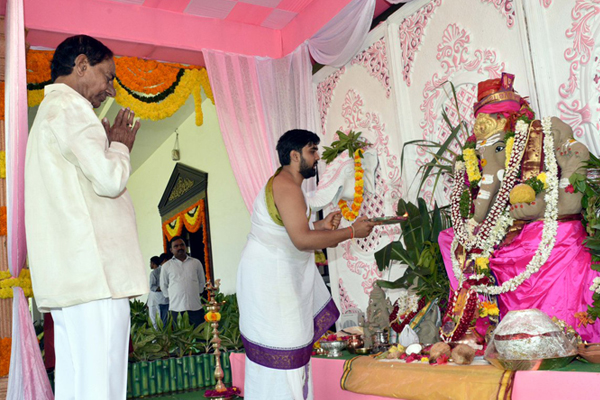 Ganesh Chaturthi began with pomp and gaiety in Telangana and Andhra Pradesh on Thursday as devotees installed the idols across the two states.
Thousands of idols of different shapes and sizes were installed at specially decorated "pandals" or makeshift platforms erected by various neighbourhood and traders' associations.
The 11-day-long festivities began amid tight security in Hyderabad and other parts of Telangana and neighbouring Andhra Pradesh.
Devotees also performed puja to the elephant-headed Hindu god in their houses. The markets were abuzz with activity as men and women bought flowers, leaves, fruits and other puja items.
Several trucks were seen carrying giant idols from Dhoolpet — a market famous for idol-making in the old city of Hyderabad.
Like every year, the tallest Ganesh idol was installed at Khairatabad in the heart of Hyderabad. The idol this time is 57 feet high and 24 feet wide, weighing more than 45 tonne.
Telangana ministers N. Narasimha Reddy and T. Srinivas Yadav, local MLA and BJP leader Chintala Ramachandra Reddy and others offered first puja. Hundreds of devotees thronged the place to catch a glimpse of the idol and make their offerings.
A sweet firm from Andhra Pradesh is offering 580 kg laddu as "Maha Prasadam" to Khairatabad Ganesh. According to organisers, the laddu has been made with 220 kg sugar, 145 kg cow ghee, 175 kg Bengal gram, 25 kg cashew nut and 13 kg almond.
Telangana Chief Minister K. Chandrashekhar Rao, along with his family members, performed Ganesh puja at Pragati Bhavan, his official residence, to mark the occasion.
Rao, his Andhra Pradesh counterpart N. Chandrababu Naidu and the Governor of both states, E.S.L. Narasimhan, have greeted people on the occasion of Ganesh Chaturthi.
Special puja programmes were also organised in the offices of political parties in Hyderabad.
According to the police, 30,000 idols will be immersed in Hussainsagar, the lake in the heart of the city, during the 11-day fete. Nearly half of them will be immersed on the final day — September 23.
Over 20,000 policemen and personnel from paramilitary forces will be deployed in the twin cities of Hyderabad and Secunderabad to maintain law and order during the festival.
The police said tight security arrangements were made in the communally-sensitive old city of Hyderabad.