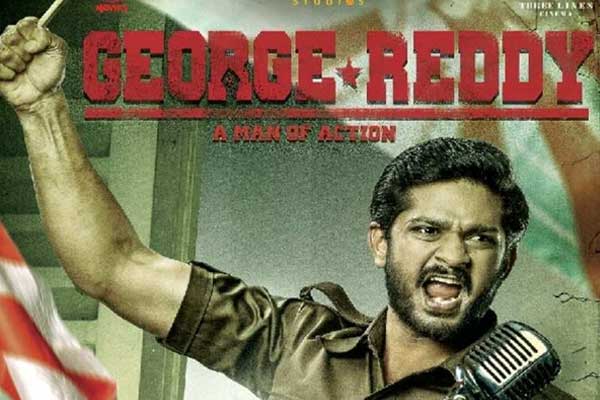 George Reddy Review Rating
Telugu360 Rating 2.5/5
This year we have seen plenty of biopic movies. 'George Reddy', which has successfully generated a great buzz with big names lending their support and promoting it, is the latest addition. Is the film worth all the hype?
Story :
George Reddy (Sandeep Madhav) joins Osmania University in 1970 in the physics group. A gem in studies, he also gets into student politics, becomes a leader. After posing a threat to ABCD student wing and other party wings, George Reddy gets selected to Bombay University. But farmers' suicides in the state change forced him to start an agitation for them. Around the same time, elections for the student bodies are announced. The rival groups plan to eliminate him. The film is all about he became a beacon of hope for the students, how ignited fire in the minds of students to raise their voice.
Analysis :
At one time or the other in their life, one would have heard about 'George Reddy', a student leader of Osmania University who inspired a generation. He still has a cult following in those who have left-leaning. This biopic movie begins with a filmmaking student from the USA coming down to Hyderabad to make a documentary on him.
Films touching the theme of student politics is not new to the Telugu audiences. From the days of Ram Gopal Varma's 'Shiva', we have seen many such dramas. So, the core aspect of George Reddy's life – a young student raising his voice and taking on the rowdy batch of students has already been filmed in many movies. Since this is a biopic, the director cannot avoid that part. But he concentrated heavily on those clichéd aspects of student wars and fights between two or three groups and student elections. Thus we get to see the predictable scenes for the most part.
What George Reddy stood for? In real life, he fought against ABVP (in the film it is mentioned as ABCD), he questioned the inequalities, he also preached a left ideology. The film also presents these aspects but has focused more on fights, and other routine things thereby giving us clichéd feel.
While some scenes like Fireball fight and a belt fight have been shot aesthetically (thanks to excellent cinematography), many other scenes lack dramatic effect. The climax part also looks rushed. "Had George Reddy took up the gun, history would have been different," is the message the film tries to drive home about and also presents one side of his life.
It has many positive things to talk about like superb cinematography, excellent background score, and good acting from Sandeep Madhav, it also makes you bore in equal part with routine scenes.
Muskaan has appeared in two roles, she is okay. Other actors have done a neat job. Editing is patchy.
Positives:
Fireball sequence, a belt fight
Background score
Cinematography

Negatives:

Inconsistent narration
Clichéd scenes
No emotional connect
Avoids the actual political references

Verdict:

'George Reddy' is the biopic of an iconic student leader, a cult figure. It has its moments. It also has terrific cinematography and background score but the inconsistency in narration is a big letdown. This is another biopic movie in Telugu that leaves us in mixed feelings.

Telugu360 Rating 2.5/5