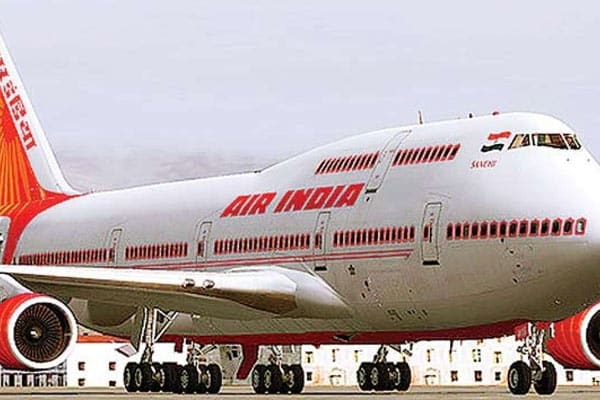 The Central government has invited 'Expression of Interest' to divest 76 per cent stake and management control of the national passenger carrier Air India (AI).
The Preliminary Information Memorandum (PIM) inviting the "EoI" for the strategic divestment of AI, along with the airline's shares in AIXL (Air India Express) and AISATS (Air India SATS Airport Services) from private entities including the airline's employees was issued on Wednesday.
The central government owns 100 per cent equity of Air India. In turn, the airline holds full stake in Air India Express, while it holds 50 per cent stake in the joint venture AISATS.
Accordingly, it has been planned to divest 76 per cent government stake in AI, 100 per cent in AIXL and 50 per cent in AISATS.
"The Government of India has given 'in-principle' approval for the strategic disinvestment of AI by way of the transfer of management control and sale of 76 per cent equity share capital of AI held by GOI, which will include AI's shareholding interest in the AIXL and AISATS," said the PIM document.
The document detailed that apart from AIXL and AISAT, other subsidiaries of AI Group like AIESL (Air India Engineering Services Ltd), AIATSL (Air India Air Transport Services Ltd), HCI (Hotel Corporation of India) and AASL (Airline Allied Services Ltd), "will not be part of the proposed transaction".
On the debt restructuring, the PIM disclosed that the "existing debt and liabilities of AI and AIXL as on 31st March, 2017 are being reallocated and it is expected that debt and liabilities, including net current liabilities of Rs 88,160 million, aggregating to Rs 333,920 million will remain with AI and AIXL".
"The balance debt shall be allocated to Air India Asset Holding Ltd which is 100 per cent owned by the GOI subject to receipt of requisite approvals from lenders and regulators, as applicable."
Department of Investment and Public Asset Management (DIPAM) Secretary Neeraj Kumar Gupta said that non-core assets like buildings and others will be transferred to the SPV.
"Only the core assets which are essential for operation, they are being transferred with Air India. All non-core assets are being hived off to the SPV. It will be separately monetised.
"… There will be some time for those parties who are interested, they will go through the document and come out with the expression of interest," he said.
Besides, the PIM had revealed that "Confirmed selected bidder" will be required to be invested in the airline for at least three years and keep the "substantial ownership and effective control" of both Air India and Air India Express vested with Indian nationals.
The selected bidder will be allowed to use the "Air India" brand for AI business operations for a minimum specified number of years…"
Last month, Minister of State for Civil Aviation Jayant Sinha had said that the government plans to divest its stake in the national passenger carrier by this year-end.
He said the bidding process is expected to be finished by June, by when the winning bidder will be chosen, and all the "legal formalities" will be completed by December.
As per the plan, the Air India group will be divested as four different entities.
In his Budget speech for 2018-19, Finance Minister Arun Jaitley had said: "The government has also initiated the process of strategic disinvestment in 24 Central Public Sector Enterprises. This includes strategic privatisation of Air India."
The airline is under a massive debt burden of over Rs 50,000 crore. Till now budget passenger carrier IndiGo has evinced interest in buying the airline's international operations and its subsidiary Air India Express.
Besides IndiGo, aviation industry majors SATS, Bird Group and Celebi have shown interest but in buying Air India's ground handling unit.
Currently, the combined entity of AI and AIXL has an extensive network connecting around 43 international destinations and around 54 domestic destinations.
The entity operated a fleet of 138 aircraft as of December 31, 2017 comprises 69 Airbus and 69 Boeing plans.