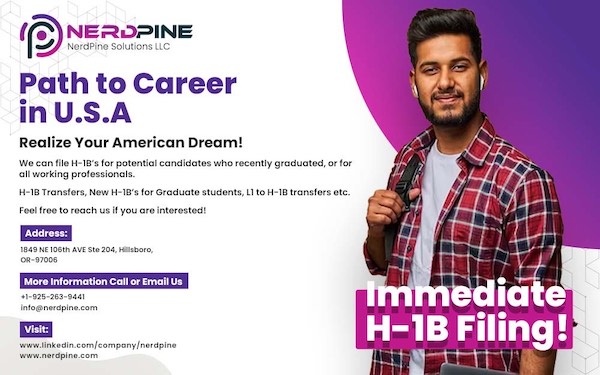 NerdPine (https://www.nerdpine.com/) is a global technology partner, an American software consulting company headquartered in Hillsboro, Oregon, USA with about two decades of industry experience. The company was founded in 2017 by alumni of Harvard, MIT, Wharton, Kellogg, and Cornell business schools.
We thrive to address each of our client's independent strategy, mission & purpose. NerdPine accelerates ideas to execution for startups, small and mid-sized companies by making an impact on their brand and creating an ecosystem that can scale businesses.
As part of our hiring strategy, we wish to file H-1B for future employment of potential candidates. We can file H-1B for the year of 2023 for the below categories:
– OPTs/ CPTs – recent graduates in Computer Science/ Information Technology and Electronics background
– CPT, OPT or L1 candidates who are already working
– Premium transfer process for current H-1B candidates
We have a dedicated team of Talent Management to get you placed in your core skills, while also offering specialized training for the interested.
We are technology partners with IBM, Google, etc. and have expertise in providing technology services across the following skills:
– Programming – Java, Python, Scala, JS, Angular, Web, Bootstrap, Front-end apps, etc
– Platforms – IBM BPM/ BAW, FileNet, Datacap, AI/ML, Robotic Process Automation, Salesforce Cloud, Pega BPM & Rules, SOA/ Middleware, SAP, Master Data Management, Mobile Development etc.
– Project Management, Scrum Owner, Product Managers, Business Analysts, and QA
If anyone is interested to learn more, feel free to email us at info@nerdpine.com or call us at 925-263-9441
Follow us on LinkedIn @ https://www.linkedin.com/company/nerdpine
Content Produced by Indian Clicks, LLC