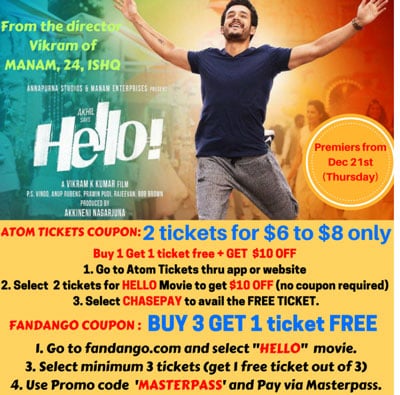 "HELLO" Premieres today from 5 pm EST Vikram K Kumar's "HELLO!", Starring Akhil Akkineni & Kalyani Priyadarshan, is all set for premieres today from 5 pm EST. Vikram Kumar's earlier films MANAM & 24 have received accolades from public and critics and now he is coming with heart felt good love story with solid action, who were choreographed by Hollywood team.
The film is certified 'U' and touted to be a pakka family entertainer which is set to appeal to all sections of audience.
Trailer:
CineGalaxy has partnered with ATOM Tickets for special promotional offers this Christmas holiday season. This week, discount offers available from Fandango & ATOM Tickets & Movie Pass. Theaters list at www.cinegalaxy.net
ATOM TICKETS COUPON: 2 tickets for $6 to $8 only
Get $10 OFF of two tickets & Buy 1 Get 1 ticket Free thru Chase pay
1. Go to Atom Tickets thru app or website (atomtickets.com)
2. Select 2 tickets for HELLO Movie to get $10 OFF (no coupon required)
3. Select CHASEPAY to avail the FREE TICKET.
ATOM Tickets support AMC & Regal chains mostly.
FANDANGO COUPON : BUY 3 GET 1 ticket FREE
1. Go to fandango.com and select "HELLO" movie.
3. Select minimum 3 tickets (get 1 free ticket out of 3)
4. Use Promo code 'MASTERPASS' and Pay via Masterpass.
Fandango Buy1Get1 (or) $15 off
Steps:
1) Go to Fandango.com and Select theatre
2) Select movie and show time
3) Give valid email address or login in to fandango
4) Enter Promo Code: GOOGLEPAYJOY
CineGalaxy, Inc.
Email: movies@Cinegalaxy.net
Phone/WhatsApp : (972) 953-5226
Website: www.cinegalaxy.net
Facebook: facebook.com/cinegalaxy
Twitter: https://twitter.com/CineGalaxyUSA