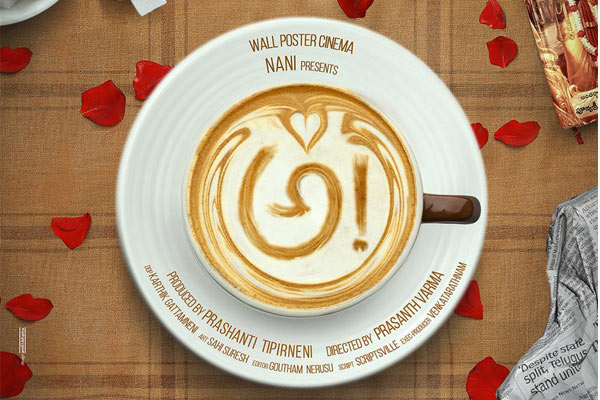 Inside Talk – How Nani Turned Into Producer
Heroes transforming themselves into movie producers is not a new thing in the film industry, but the success rate is very less. Only countable heroes have tasted success at the box office as producers who got backed up by had big production houses like Geetha Arts and Suresh Productions. But things have changed right now and our current generation hero won't hesitate to produce a film if they like the story and take the complete responsibility on their shoulders. Recently Natural Star Nani has stepped into production with "Awe" and first look received positive talk. Nani initially did not plan to become a film producer but things have fallen into place unexpectedly.
Young talent Prasanth Varma has impressed everyone with his short film "Silent Melody" which was produced by Sundeep Kishan. Prasanth meet Nani, narrated him the story and requested him to give voice-over for his debut film. After hearing the full narration idea of producing the film got popped up in hero Nani's mind and expressed his desire to Prasanthth. But Prasanth already had producers onboard and was unsure about keeping the entire project into Nani's hand leaving his original producers and at the same time, he can not avoid the Natural star.
But Nani insisted that once he steps into the project then there will be no issues in film promotions, the movie will be marketed as a star hero film with a big release. Hero further pushed to at least make him the partner in movie production. Finally, under 50-50 term bases, Nani joined into the film as a producer.
As time passed by the original producers move out and Nani became the single producer for Awe movie. Awe film story revolves around nine characters, so Nani has made this project with perfect production plan by casting actors who are very close to him. Because of the close relation with Natural star, the cast has taken nominal paychecks. A whopping 2 crores are spent on a special set for Awe film and the entire filming is carried out in the set.
As per sources, Awe got wrapped up in a budget of 4 to 5 crores. Nani has his own brand name and with star casting like Kajal, Regina, Nithya Menon will yield to big promotions for the film. Industry insiders are predicting that Awe can fetch a minimum 10 crores in its pre-release business phase only. Let's wish Nani get successful as a producer and make more films to entertain audiences.