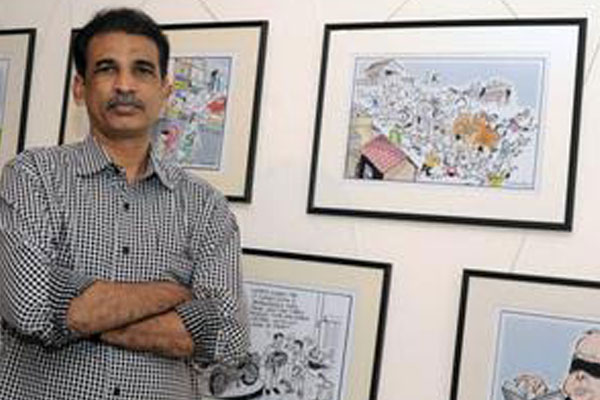 (S.Ramu)
Time and again, Chennai aka Madras aka Chennapuri proved to be a fabulous 'launching pad' for many artists and businessmen from the land of Telugus. Our people would go to Chennai in search of greener pastures, toil very hard to prove their mettle, grab the every available opportunity in the face of all kinds of adversities and finally rise to greater heights in their professional lives. Ask any Telugu film star or writer, you would realise the importance of 'Chennai days' in their lives!
Belonged to a slightly different genre, a soft-spoken affable gentleman landed in the erstwhile Madras with a lot of hesitation and self-doubt twenty long years ago. He tided over turbulent times, both at personal and professional level, and made a mark for himself in the world of cartoons. He is none other than The Hindu's cartoonist Surendra, an unsung hero every Telugu should feel proud of.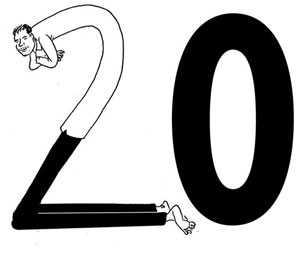 "It is an incredible journey. I joined The Hindu in 1996 and I can't believe I have survived 20 years in The Hindu. I must be grateful to N.Ravi (the then Editor-in-Chief) and all other editors I worked with. They all were very supportive," Surendra, son of a journalist Ramakrishna Reddy, told Telugu360 in an interview.
Most of the editors are either third rate impatient fellows or arrogant professionals of the highest order. They don't leave a comfort zone for beginners. However, Surendra was lucky to have good people around him in his initial years. "First few years, I was confused. My work was not at all good. Mr. Ravi was very patient enough with me and gave me a long rope. When I revisit some of my old cartoons he cleared, I wonder how did he clear those awful cartoons."
Surendraji, any evolving professional without egos indeed would feel shame of his earlier works! Then, how our Surendra coped with the slightly ill-tempered N.Ram, who took over the reins from Ravi? "When Ram became the Editor, we were really worried. He was known to blow his top and fly into a raze. Nothing like that happened. From the day one, he liked my cartoons. Ram has the habit of writing good, very good, excellent on cartoons sent for his approval. Most of my cartoons have those 'medal'. I preserved them," Surendra revealed. How Surendra won Ram's confidence?
"In 2006, The Hindu went for a new design. The cartoon found a permanent slot in the edit page. After sometime, even Ram had some doubts about sustaining it on a regular basis. He asked us whether we can manage it. To this day we never missed. Ram was very happy and he mentioned this in many of his speeches he made in cartoon- related meetings."
Another excellent cartoonist Keshav is an old timer in The Hindu. Surendra has high regards for his idol-cum-colleague.
"Meeting Keshav, my idol, is one of the cherishable things in my life. in 1995, I went all the way from Hyderabad to meet him. He was nice to me and gifted a cartoon of his, signed. A year later, I was sitting next to him in The Hindu's office and working along with him. He is like an elder brother and guide for me."
To another question, Surendra said: "I was in awe of The Hindu and its readership initially. I thought I have to be very cerebral (intellectual type) cartoonist and tried to act like one but failed miserably. Only then I realised that I have to be myself and continue to work like I did in my earlier avatar in Telugu papers."
Born in Kadapa in 1962, Surendra (real name, P.Surendranath Reddy) did his graduation in Science from SRR&CVR College in Vijayawada, where his father worked as a sub-editor in a Telugu weekly. A few visits to dad's office did the real trick! Surendra came across some cartoons there and tried his hand with the critical inputs from his father. He chanced upon Mohan, one of the great cartoonists and got initial encouragement for his work. Thus, the journey of the great cartoonist has begun.
He moved to the capital city of Hyderabad in 1983 and struggled very hard to settle down in the profession. After working for Kammando, Adivaram, Balachandriaka, Andhra Bhoomi, Udayam, Hindi Milap, Citizen's Evening and Andhra Prabha, Surendra transformed himself into a professional cartoonist but he couldn't find a solid forum to put an end to the uncertainty in life. During his stint with Udayam (from 1992 to 95), he made a mark as a cartoonist but left with no job for four months after its closure. Alerted by a cartoonist friend Ravikanth, now with Businssline, Surendra caught the Madras Express and earned a job in The Hindu. "G. Sreerammurthy, well known as Nijam srirammurthy, a senior journalist, had introduced me to Vinukonda Nagaraju, editor of Kammendo magazine. That is how I got my first job," he maintained.
Winner of a life-time achievement award for his fantastic work from Raipur-based Cartoon Watch in 2013, Surendra is always grateful to The Hindu as the newspaper management stood by him when his son fell critically ill in 2004. "When my son was hospitalized in a critical condition, I ran out of money. On the advice of Keshav, I met the Managing Director N Murali. Though it was my first interaction with him, he patiently listened to me and asked me not to worry. The office gave a letter to the hospital to send the entire bill to The Hindu. N Ram personally visited the hospital and interacted with doctors. He met the legendary Nephrologist Dr. M K Mani and consoled me and told me not to worry," recollected Surendra.
"I stayed with my son in the hospital for 45 days. It was a so very very bad time that even after 12 years, I suffer nightmares of those days. My son came back home and the bill went to The Hindu. I don't remember the amount (may be around 6.5 lakhs) but it was a timely help extended by the management for me," he said adding that The Hindu took care of the expenses when his son again got hospitalised two months later.
"I am indebted to the office not just for the help but the way they have done it. This humane element is very rare in any company-employee relationship. Companies going out of the way to help a very important employee may be common. In 2004, I was just beginning to find my roots in The Hindu, because I took a long time to settle down in this prestigious English paper. Having come from a rural background and with some experience as a cartoonist only in regional papers, I was not indispensable. Still The Hindu came to my rescue," he said.
A strong votary of democracy, freedom, human values and free press and also a nice human being with a heart for poor, downtrodden and aggrieved, Surendra's cartoons reflect all these qualities one way or the other.