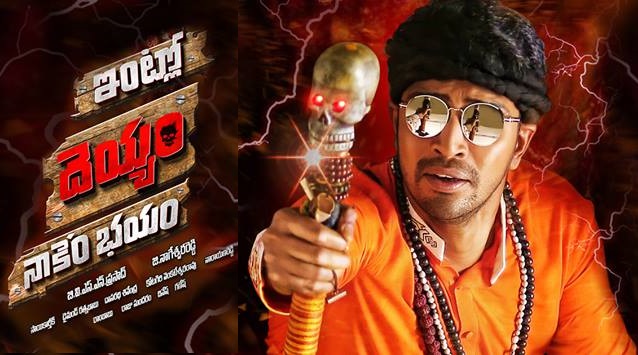 Intlo Deyyam Nakem Bhayam review
 Intlo Deyyam Nakem Bhayam review
Comedy King Allari Naresh is lying low from the past three years with no notable success to his name. He tasted back to back debacles due to poor selection of scripts. He is now coming with a horror comedy titled Intlo Dayyam Nakem Bhayam, which is set for release today
Naresh is confident of ending the flop streak with this comedy caper which is laced with horror elements. Directed by entertainer's specialist filmmaker G. Nageswara Reddy, the film is a production venture of BVSN Prasad. Kruthika Jayakumar is the film's leading lady and Sai Karthik composed the tunes.Let's see if Intlo Dayyam Nakem Bayyam can bring Allari Naresh out of the rough patch.
Story:
" Intlo Deyyam, Nakem Bhayam " is about a lady who got killed, few hours before her marriage, in a building. Since her death, the lady's soul haunts the building, attacks the visitors. Unknowing about this resident Ghost, Mr. Rajendra Prasad purchases the same building,  he and his family experiences the same attacks, hires a team of Tantriks. To make some easy money, Allari Naresh fakes as a Tantrik , leaving original profession of band troupe. Naresh realizes there exist really a ghost, not any hoax. As he realizes who is the Ghost, story turns to a brief flashback.
After flashback, the lady ghost insists on Naresh to marry her. Shocked by her wish.. Naresh,Rajendraprasad and team try to evade the marriage with the ghost. But, Naresh is interested in marrying his real Girlfriend Kruthika Jayakumar
Rest of the story deals with:
How and why the lady was killed in first place  ?
Whether the lady ghost takes revenge ?
 With whom Naresh gets married finally?
Analysis:
"Intlo Deyyam…" movie suffers with poor writing in all aspects. Subject is pale, dialogues lack any wit, screenplay is not an engaging one. If attempted as a spoof on recent years' ghost films, they would have scored better. Movie ended as neither a serious Ghost film, nor as a spoof. "Intlo Deyyam.." attempts to shock the audience , in couple of scenes partially succeded. Throughout the movie, the ghost  keeps on slapping one or other character dozens of times, and that was so irritating.
Rajendra Prasad, Brahmanandam, JP , Shakalaka Shankar, Dhanraj have played their roles with ease but there is nothing much in writing to showcase their skill.
Songs:
Except the last song "Dabaai Dabaai" which may appeal to masses some extent, rest all songs are forgettable immediately.
Production: 
This movie should not be produced by any popular producers like BVSN Prasad who delivered many of recent blockbusters. Be it character actors or production values, they are so cheap in this movie.
Direction :
G. Nageswara Reddy is not a director for arm chair critics. He is known for mass comedy genre, has a knack of delivering box-office success movies. This time, instead of attempting his forte genre, Mr. Reddy has attempted a horror comedy, without proper homework, and has failed. His direction shows no signs of hard work or creativity in any single scene.
Verdict :
"Intlo Deyyam …" Movie is easily one of the worst movies this year, and you may avoid. With a single line subject, with zero humor/novelty this movie tests patience almost every minute of its 130 minutes' duration. Another flop for Allari Naresh.
Telugu360 Rating : 2/5
Telugu360 is always open for the best and bright journalists. If you are interested in full-time or freelance, email us at
Krishna@telugu360.com