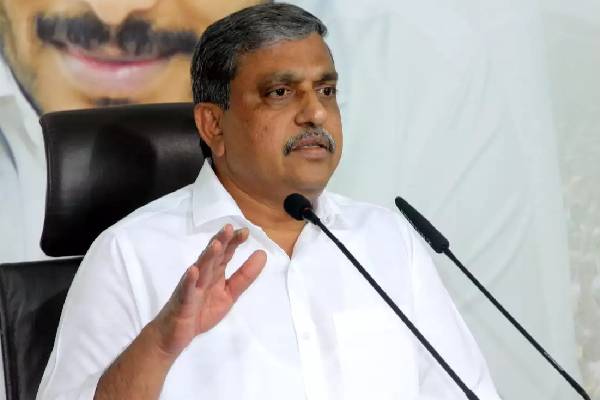 YSR Congress general secretary and government advisor Sajjala Ramakrishna Reddy is now in the eye of the storm after the party suspended four MLAs for cross voting in the MLC elections. Two of them – Mekapati Chandrasekhar Reddy and Undavalli Sridevi – have denied the allegation, while the other two – Anam Ramanarayana Reddy and Kotamreddy Sridhar Reddy – remained silent.
Both Anam and Kotamreddy have turned against the leadership and have been indulging in criticising the party in the public meetings and before the media. Kotamreddy went one step further and attended the recent budget session with a placard and held a protest in the house only to be suspended for the entire session.
Now, after the suspension, the MLAs are showing their fingers at Sajjala alleging that he masterminded their suspension from the party. It is also alleged that Sajjala is misleading chief minister Y S Jagan Mohan Reddy in every issue.
Sajjala had been playing a key role both in the government as advisor and in the party as general secretary. Even ministers are forming queue lines at his office and they don't even venture to sit before him.
The opposition TDP calls him Sakala Sakhaa Mantri meaning a minister for all portfolios, reflecting that he handles every portfolio and is minister above every minister. He earned the same name in the party affairs.
He was in the eye of the storm when the employees held a protest rally in Vijayawada a few months ago with the employees openly criticising him for his involvement in every issue.
Now, it is alleged that Sajjala had misled Jagan Mohan Reddy and came up with a hurriedly taken decision suspending the four MLAs. He also branded them as having taken Rs 10 crore to Rs 20 crore each from the TDP for cross voting.
The suspended MLAs are throwing an open challenge to Sajjala asking him to prove his charge. They are also saying that Sajjala is a liability for the party and Jagan Mohan Reddy as well as he had been blocking the interviews of the chief minister with the party MLAs. He is said to be not allowing the MLAs to meet the chief minister without his permission.
Whoever tried to meet the chief minister without taking his permission was branded as anti-party, it is said and thus Sajjala was causing more harm to Jagan. It is high time that Jagan Mohan Reddy realise this damage and undo it before it undoes his prospects.