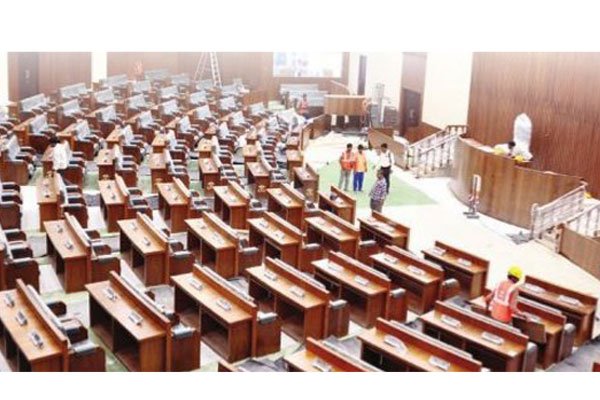 The Leader of Opposition YS Jaganmohan Reddy today urged Andhra Pradesh Assembly Speaker Dr Kodela Sivaprasada Rao to preserve the sanctity of the new Assembly building, which is scheduled to be inaugurated by Chief Minister Chandrababu Naidu on March 2, at 11.25 am, in Velagapudi, by taking action against 21 defected MLAs as per Anti-Defection Act provisions.
In an open letter to the Speaker, the YSR Congress Party chief reminded regarding the situations that resulted in the construction of new Assembly building in Amaravati claiming that Chief Minister Chandrababu Naidu's vote for note scam was responsible for it.
He said that Chandrababu Naidu was forced to shift his base to Velagapudi, from interim capital city Hyderabad suddenly after the Chief Minister was caught on tape trying to lure the TRS MLA. He pointed out that the shifting to the new assembly building at Velagapudi happened only to save Chandrababu Naidu from this case.
Alleging that in the same way, the sanctity of AP Assembly was also put at stake with engineering defection of 21 MLAs from his party, by spending huge amounts. However, he deplored that Speaker has been delaying to enforce anti-defection laws by disqualifying the defectors.
YRS Congress Party chief demanded that Speaker should take strict action on MLAs who shifted parties. Expressing concern that the Speaker has been delaying in taking action using Anti-Defection Act norms against such MLAs, he urged him to follow new traditions at least in the new Assembly building.
Meanwhile, YSRCP MLAs alleged that the Government was trying to muzzle the Opposition and has even suspended YSRCP MLA RK Roja for one year. They asked the Speaker to ensure that such unsavoury incidents do not recur in the new assembly building.