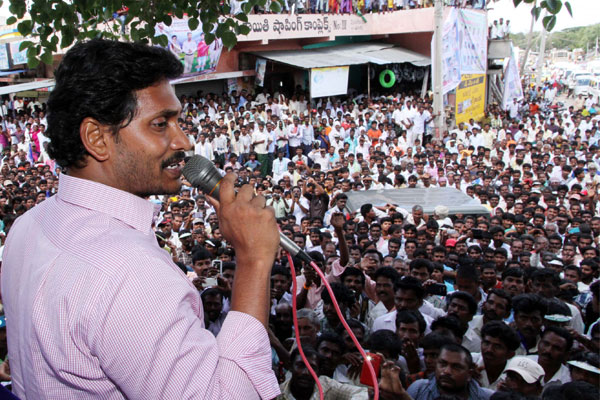 YSRCP president and Opposition leader in Assembly YS Jaganmohan Reddy, who is on a mission to build a Telangana-like students movement for achieving special status today called upon the students in Vizag to fight for the special status. This is his second interaction with students in a program called "Yuva Bheri" the first being with the students of SV University. Reiterating his oft repeated slogan that no special status means no jobs and no future. " Special status is the only hope for getting jobs. Chandrababu Naidu is not able to fight for the special status for political reasons. The reason is to save his skin from the cash-for-vote scam case. Chandrababu Naidu had attempted to buy Telangana MLAs with the money he took as bribe from the projects like Pattiseema and got caught red-handedly while offering money. To bail himself out of this case, Naidu had to crawl before the NDA government. He sold out the interests of the state for his personal gains," Jagan said.
To cover up his sell out to centre, Jagan said, Naidu was preaching that Special Status was not panacea and 14th finance commission was opposed to it etc. According to Jagan the 14 th finance commission had nothing to with special status. In the past 15 months, Jagan said, not a single job had been offered in the state and on the other hand many contract employees were losing their jobs. With special status alone Andhra could become number one state and enter the orbit of development and job creation.
"There are nearly 1.42 lakh vacancies in government. There are about 5,000 jobs in the universities. Chandrabu Naidu doesn't want to fill up these vacancies. Because, he has devised a plan to undermine the universities and encourage the private universities. The students, who appeared for the DSC have no chance of getting the teacher posts," he said painting a gloomy picture about the job scenario in Andhra Pradesh. He exhorted the student who attended the Yuva Bheri to question Chandrababu Naidu about the special status to Andhra Pradesh.
" He doesn't fight for the special status. We have to build a movement and exert pressure on the centre to get the special status accorded to the state. Then only we will get the ample job opportunities," Jagan said.