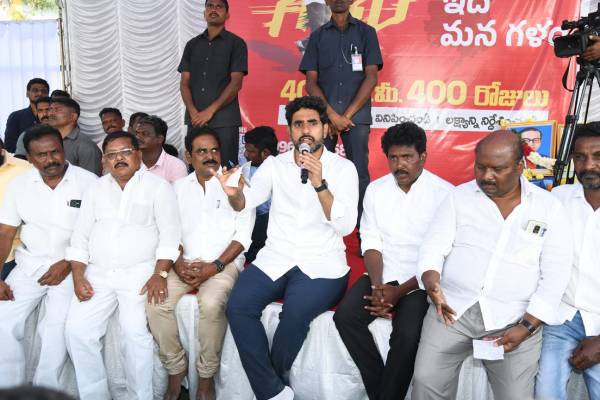 Chief Minister, Jagan Mohan Reddy, and his government do not have faith in the judicial system, felt TDP general secretary and former minister, Nara Lokesh, on Monday.
Several young advocates from Chittoor walked along with Lokesh during his pada yatra 'Yuva Galam' on Monday and wanted Lokesh to initiate steps for setting up a law academy at Chittoor once the TDP comes back into power. This will be of great help for the young advocates for sharpening their professional skills, they informed Lokesh.
They also wanted free medical assistance for the families of the advocates who are struggling to earn their livelihood. The advocates also wanted house-sites to be allotted to them at the government rates and Rs 5,000 per month be paid as honorarium be paid for young advocates by appointing them as government pleaders.
The advocates wanted the Rs 40.32 cr funds allotted to Chittoor court complex be released immediately and the construction also should be completed soon.
Lokesh felt that the Jagan Mohan Reddy government is adopting a vengeful attitude towards the judicial system and even the judges are not given proper respect. Some comments on judges are being posted on social media by YSRCP senior leaders and are facing CBI inquiry on this, he said.
Lokesh demanded that the Rs 100 cr allocated for the welfare of the advocates be released immediately and promised to complete the construction of the Chittoor court complex soon after the TDP is in power again. He assured the advocates that all the necessary welfare measures will also be taken.
Jagan miserably failed to implement the total prohibition that he promised, Lokesh said and asked how many cases will be filed against him by the time he completes his pada yatra.