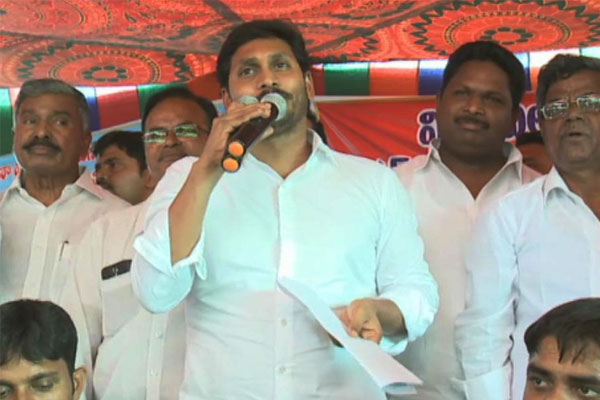 YCP leader YS Jaganmohan Reddy is greatly alarmed at one thing for sure as the 2019 elections are fast approaching. He is angry that the ruling TDP leaders are continuously trying to link YCP with the BJP in every way possible.
What can he do? As the saying goes: all is fair in love and war. Yes, politics and elections are being fought like wars these days. Jagan has dismissed any chance of alliance with BJP already but TDP is bent on proving this wrong. TDP's argument is that YCP and BJP may not have an open alliance because of hostile public mood in the state but they are surely having a secret understanding right now.
During his Praja Sankalpa Yatra being held in Vizianagaram, Jagan again raised the TDP's campaign saying that this was aimed at misleading public in order to take political advantage out of this.
Apparently, TDP's gameplan is serving its purpose on this count and Jagan has no option but to make a counter attack. Everybody knows BJP is not the least favoured party in AP now after all injustice done to it after state division.
With regard to Vizianagaram assembly segment, Jagan announced that K. Veerabhadra Swamy would contest on their party ticket in next election.
Telugu360 is always open for the best and bright journalists. If you are interested in full-time or freelance, email us at
Krishna@telugu360.com