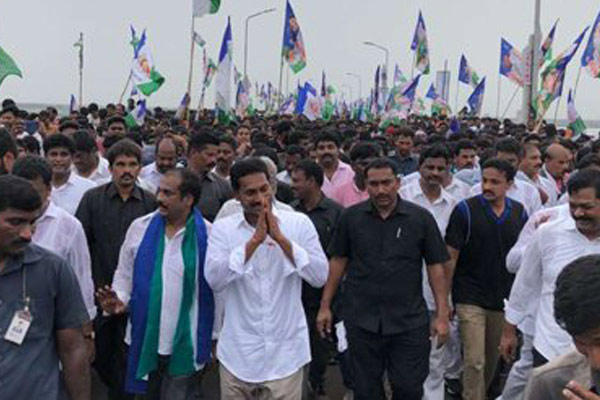 Leader of Opposition and YSR Congress chief Jaganmohan Reddy is fighting a tough battle with an eye on the Chief Minister's office. As a politician he might be right to set the ambition on the top seat, but the voters should get convinced about his abilities to handle the top post.
In the last four years, Jaganmohan Reddy, as Leader of Opposition, focused only on hitting at Chief Minister N Chandrababu Naidu and the government's failures. Even now, ahead of the 2019 elections, his focus is more on Chandrababu Naidu's failures on one side and his own pack of welfare initiatives for the cross section of the people. As Opposition leader and the man aspiring to take over the Chief Minister's Officer, Jaganmohan Reddy is justified in his criticism of Chief Minister, but there is much more required from him to sit in the slot.
Even in his Praja Sankalpa Padayatra, he moves on hitting at Chandrababu Naidu and highlighting his welfare initiatives for the people. But the big question is where his agenda is for the State!? It looks as if Jaganmohan Reddy, in his hurried run for the top seat, is forgetting the fact that people expect him to give his agenda for the State if he is voted to power.
Special Category Status is not the only thing that is required from him for the State. He has to make his mind clear on the core issues like overall development of the State, the new capital city, the bifurcation issues including the coastal corridors. It is unfortunate the Jaganmohan Reddy is not speaking about the initiatives that he has on his agenda to develop the State. The State required special care and vision, particularly after its bifurcation.
Chandrababu Naidu had taken up the industrial initiatives, Amaravati capital city and Polavaram project as his priorities for the State. His focus to get more investments and industries to the State is the agenda and he had organised three investment summits in Visakhapatnam in the last four years and had made several foreign visits to invite investment. How far he succeeded in this is a different question but he has the agenda for the State, which is missing from Jaganmohan Reddy.
He has to convince the people who have their hopes on the State and their future and certainly not just on the sops alone. The State and its future is more important for many people and he should have the agenda for the same. One wonders whether he had any such agenda with him for the State or just wants to fight this election too by criticizing Chandrababu Naidu and promising sops for the people. This alone will not help him win the election, he should understand.