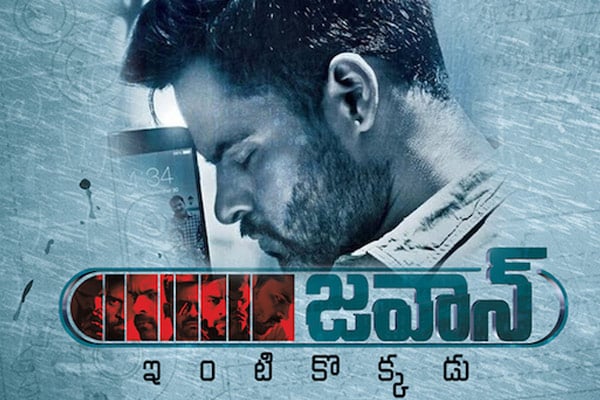 Jawaan movie review, Sai Dharam Tej Jawaan review
Telugu360 Rating : 2.75/5
Mega hero Sai Dharam Tej's success graph plunged after his last two films tanked heavily at the box office. He is now looking for a strong comeback with his latest film Jawaan, Directed by BVS Ravi, Jawaan is tipped to be a cat and mouse game between a responsible citizen played by Sai Dharam Tej and an anti-nationalist group led by antagonist Prasanna. Happening beauty Mehreen Prizada is the film's leading lady.
Story:
Jawaan is the story of Jai (Sai Dharam Tej) who is talented and responsible citizen. He has immense love for his family , career wise aims of making it big in Defence Research and Development Organization (DRDO). While a team of scientists through years of research develop a missile 'Octopus', an evil (Prasanna) tries to steal it after he inks a massive deal with international mafia.
The rest of 'Jawaan' is about how Jai faces the challenges, overcomes and wins the battle leaving his family safe.
Analysis:
Jawaan starts off on an interesting note and the character of Tej has been well designed. Soon after the film gets into a serious note, one will not get impressed with the narration as it has enough flaws especially DRDO part. The process of designing the country's biggest missile seems to be unconvincing. The songs are barriers and they fail to make an impact im first half. With an interesting interval bang, the first half of Jawaan manages to be decent.
For a film like Jawaan, it is the second half which is quite crucial. The second half of Jawaan starts off differently. Antagonist settling with protagonist's family and subsequent mind games are interesting initially. However , as the movie reaches towards climax , graph goes down. It rarely has an interesting episode. The pre-climax , climax of Jawaan reminds us about the hundreds of revenge dramas that we have watched throughout. Though the film turns interesting at times, it dips back soon. The songs should have been taken care better to play Sai's strengths . The last twenty minutes of Jawaan is a disappointment. On the whole, the second half of Jawaan is a pretty ordinary.
Jawaan has some good patriotic dialogues , conveys message about why country is more important than family. The screenplay of Jawaan is the real reason for the film ending up as pretty ordinary. Except few patriotic ones ,dialoguesmake no impact. The cinematography looked decent and so are the production values. BVS Ravi who took a huge break from direction succeeded partially in his comeback film Jawaan.
In initial sequences outright glorification of RSS ( Rashtreeya Swayam Sevak ) is an interesting pitch.
Overall, This film is a first stepping stone for Sai Dharam Tej into story oriented films. It is a welcome move trying to shed his outright mass image, doing meaningful roles.
Performances :
Sai Dharam Tej who proved his dancing skills steps out this time with decent performance throughout. He has been outstanding in the emotional episodes. Mehreen is fine to watch though she looked bubbly on screen. The romantic drama has been well presented. Prasanna who played the baddie is the major highlight of the film. His expressions and screen presence are a treat for the audience. Subbaraju, all the other actors have been supportive and convincing in their roles.
Verdict:
'Jawaan' has good message oriented theme but it's predictable narration and poor villainy backdrop makes it pretty ordinary film on a whole. 'Sai Dharam Tej' and 'Prasanna' tops the show with their flawless performances throughout. At overseas market, Jawaan might not get much mileage, while in domestic market will perform relatively better. You may watch it if you like energetic Sai.
Telugu360 Rating : 2.75/5
Release Date : 1st Dec, 2017
Director : B. V. S. Ravi
Music Director : S. Thaman
Choreography : K. V. Guhan
Produced by : Krishna
Starring : Sai Dharam Tej, Mehreen Pirzada, Prasanna