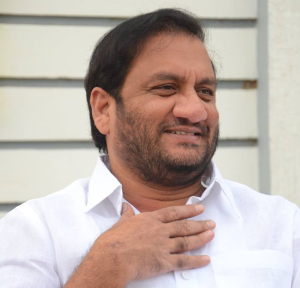 Who said municipal minister P Narayana is only an education-businessman and not a politician? The businessman is acquiring political color. He is planning to gain control of the politics in the district from politicians proper. To prove his manipulative skills, Narayana is all set to bring Nallureddy Prasannakumar Reddy back to Telugu Desam Party and present him as a trophy of his triumph in politics to his boss Chandrababu Naidu.
And, of course, also to rein-in Somireddy Chandramohan Reddy. The rise of Narayana in Nellore district stopped Somireddy in his tracks. Somireddy, though a powerful spokesperson of the party, could not get MLC nomination last month.This is the talk in political circles.
Prasannakumar Reddy has sent enough signals to YS Jaganmohan Reddy that can't continue in the YSRCP for "personal" reasons. First he expressed his inability to meet the expenditure of running the Nellore district party office. His complaint is that head office (read as Jagan) is not sharing the burden of office expenditure. Later he said he had resigned from the post of district president of the party. Later, at the intervention of YS Jaganmohan Reddy he agreed to continue as the president. Exactly one month later, Yesterday, in a press conference in Kota, he reiterated that he had resigned from the post of district party president. He also said this was final. He, however, clarified that he would continue to sail with Jagan.
Who believes it? This is typical of whispers politicians produce before they plan to leave a party. The talk in the YSR Congress is that he is a gone case. His followers say Prasannakumar Reddy is not getting due importance in the party, even MP Mekapati is also ignoring him.But, others are of the opinion that Reddy sees no future for YSRCP in the district, so wants to take a decision about his future much in advance.
Prasannakumar Reddy was originally a TDP MLA. He got elected to Assembly in 2009 as TDP candidate and later switched to Congress under the spell of YSR and then to YSRC aftre YSR death. He resigned from the Assembly and won the subsequent byelection in March 2012 as YSRCP candidate. In 2014 he lost to TDP again. As he is out power and has to bear the expenditure of party activities, he is thinking of coming back to TDP which is in power. In the next three and half year, he could get enough strength to face the 2019 election with the support of ruling party and ministers like Narayana.