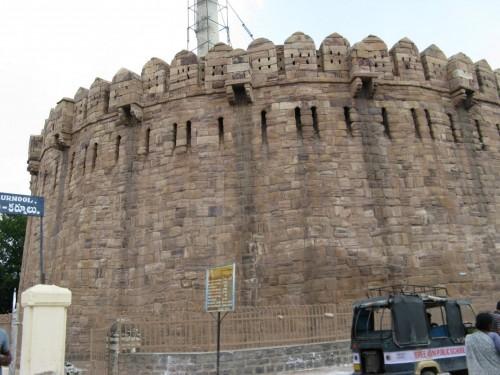 Some good news, though belated, for Kunool district, finally. Vhief minister Chandrababu Naidu has decided to buy peace with Kurnool distinct. This afternoon, at 1.20 he is going to unveil a pylon at Pudicherla for the proposed Orvakal Industrial Hub. Later, at 2.15 he is going to address a public meeting in Kurnool town, a 30-minute ride from Orvakal village.
This move is politically very important for Naidu at a time, when unrest is brewing in Rayalaseema region, for two reasons.
One- Kurnool district has been unhappy with Naidu and even generated a lot of bad blood between deputy chief minister K E Krishnamurthy and the CM. KE is upset, Kurnool district doesn't figure prominently in the CM's scheme of things. Many a time, in public meetings, KE openly expressed this. Even though
Kurnool, popular as Doab, means, like Punjab, region of two rivers, Tungabhadra and Handri, has not got any major institution from the ones CM announced in the past 14 months. Entire Rayalaseema has got reduced to Chittoor, which grabbed all national institutes. Naidu, purported explanation for this, KE could not win more than two seats in 2014 elections, that means he doesn't want to give much to the district where his party was not a force. This has not gone down well with the people. The discrimination against Kurnool dampened the TDP cadre also in the district.
Two- Rayalaseema region is revolting on the matter of 'special status'. The sentiment 'Rayalaseema' is gaining ground. Intelectuals in the region, are highlighting the culture and historicity of the region to acquire a separate identity. Giving short change to the region, which is struggling to coalesce cultural region with identity will deleterious to the interests of Naidu and his party. In spite of the fact that Rayalaseema is strong-hold of Opposition, Naidu needs to walk an extra mile to win over the people there.
Inauguration of pylon, which can be dubbed as eye-wash, is right step in right direction. Because the small pillar will convey to the people at least the intent of Naidu that he is not ignoring the region after promising sky. See what Naidu promised to Orvakal –
1. 5,000 acres have been set apart for 1,000 mw solar project,
2. 3,000 acres for DRDL,
3. 1,000 acres for Nuclear Fuel Complex and
4. 16,000 acres for industrial units.
5. St Gobains, leading glass manufacturer wants to set up a unit at Orvakal
6. Japanese company proposed Solar Components manufacturing unit.
7. Gujarat Ambuja gave its letter of intent to set up starch unit with maize.
8. A mango processing unit with a capacity to handle 40,000 tonnes
9. A green field airport
In Kurnool district
1.A Textile Park on 100 acres at Banavasi
2. A cement plant with a capacity of 40 million tonnes
3. Railway Midlife Coach Factory near Kurnool.
4. A IIIT and Urdu University from next academic year.
5. Tungabhadra Institute of Medical Sciences at Kurnool