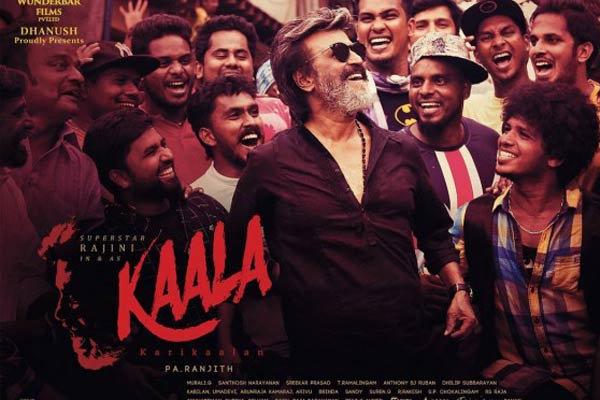 One thing that's very common in Kabali and Kaala is that, both their teasers and trailers were exciting. After a huge flop like kabali, any superstar wouldn't even dare do their next flick with the same director. But for unknown intentions Rajinikanth chose to work with Pa Ranjith again.
A slightly aged don story is the same element that ran for Kabali and Kaala but what I witnessed here is presentation of political ideology and purely targeted intension .
kaala reminded me of Nayakan with addition of few mass scenes drive. This 2 hours 46 min cinema ran comfortable when compared to kabali. Few hard hitting scenes like that of the interval scene and some hero-villan arguments make us feel the essence of Rajinikanth in the theatre. The less i talk about the music,I save your energy.
THE REAL SIDE:
As we all know, Rajinikanth has already given his political entry but with less clarity. Due to his relations with the Prime Minister Narendra Modi and his concept of "Spiritual politics" (whatever it is ) Rajini is named as the B team of BJP. Looks like he wanted to convey that he is not a part of the BJP's B team anymore and is planning to get closer to the weaker section of Tamil Nadu putting his locality aside.
When Antagonist Nana pataker says "బ్రతుకు తెరువు కోసం ముంబాయి వచ్చి ముంబాయి నీ ఏలాలనుకుంటున్నావా " this reminded me of allegations on Rajinikanth's nativity. Such political intension are clearly shown and have been projected cleverly by Pa Ranjith.
Pa Ranjith is a strong follower of BR. Ambedkar and is a Dalit himself. He spoke his free spirit on the issue of Dalits many times in the movie. The only thing I need to understand is that how a spiritually motivated person like Rajinikanth coordinated with the contradictory views that Ranjith had.
However, Rajinikanth is projected as the Raavana with good intentions. I mean the villan who does good for the people's. But the villan who actually looks good and does bad.
In the climax Nana Patekar is portrayed as Rama and Rajini as Ravana.
It is interesting that there is an on going controversy of Ravana dhanama where the dalits object the dhanam of Ravana and believe him to be God. Ranjith took a good amount of space to project this point. After his wife's death, Rajini says to Nana, "Even if your God comes in between us, I will fight with him".
Ranjith has used this opportunity to make a slightly better film than Kabali but it is definitely not the one justifying the Superstar's mark
Kanthu Agasthya, Senior Journalist TV9