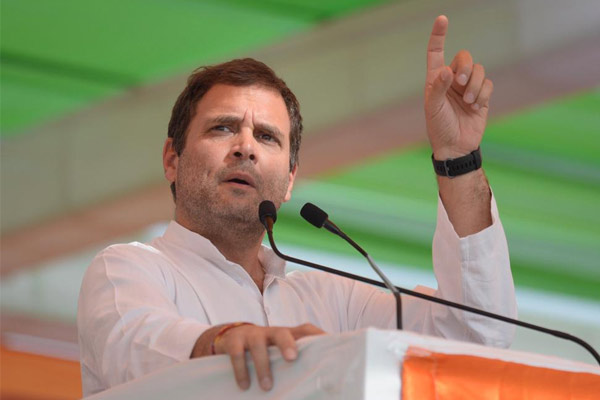 AICC president Rahul Gandhi addressed a series of election meetings in Hyderabad city limits when he made an attack on both PM Modi and CM K Chandrasekhara Rao. He described KCR as 'actually Commissions Rao' who has resorted to mind-boggling corruption instead of developing separate Telangana. He asked why KCR is silently supporting Modi's anti-people policies at the national level.
Stating that a big battle is being waged in Delhi now, Rahul told a meeting at Nampally that there are BJP and RSS on one side while all the remaining parties are on the other side. When such a national level, intense battle is going on, it is not understandable why KCR is take the side of Modi, said Rahul. He accused TRS of having supported Modi with regard to the controversial demonetisation, implementation of GST and various other policies.
Terming Telangana polls as not an ordinary polls, Rahul said it is a kind of semi-final while the 2019 parliamentary election would be the finals. Prajakutami allies will win the election as KCR and his family have totally neglected the State and Hyderabad has lagged behind in every aspect in the past four and half years.
Rahul asserted GST had a bad impact on various businesses and Hyderabad city is not an exception to this. He further said TRS and Majlis were supporting Modi regardless of the fact that PM has been demolishing all democratic institutions in the country only to take political advantage.