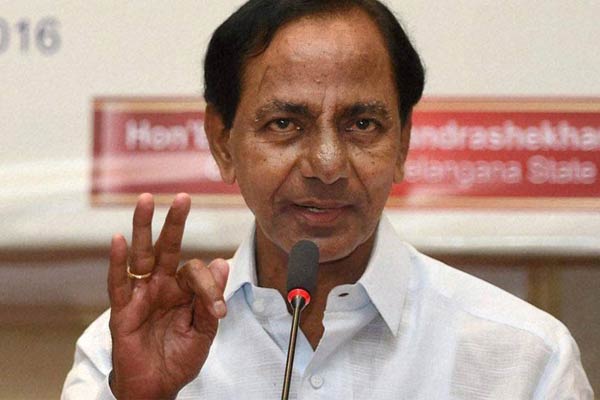 Telangana Chief Minister K Chandrashekar Rao thanked Singareni workers for helping TRS affiliated TBGKS triumph in Union polls. The TRS supremo spoke on a wide range of issues at a media conference held in Pragathi Bhavan on Friday. Here are the highlights
Kodandaram is overrating himself
Chief Minister came down heavily on TJAC chairman Professr Kodandaram. KCR said that the professor is a disillusioned person and never wanted TRS to form the government. He said that the professor went to Delhi to speak to Sonia Gandhi and Digvijay Singh to prepare their manifesto. He challenged the professor to join politics. Kodandaram is over-estimating himself. KCR said that he coined the word 'JAC', indicated the rules and sacrifices were made by TRS. Kodandaram was nominal head suggested by Professor Jayashankar while everything was done by him. Kodandaram was not even a Sarpanch of a village. He questioned if the professor was a national leader. He said that the turnout for professor's Yatras was not even 500.
Will fullfill Singareni promises
Every assurance given to the Singareni workers will be fulfilled. Despite all the opposition parties backing AITUC, the workers have trusted TBGKS. There is no organization that won 45% of the votes in the Singareni election except TBGKS. Singareni workers will be given upto Rs. 6 lakhs interest free loans. KCR critiqued the unions for signing against dependent jobs in 1998. Dependent jobs will be provided as compassionate appointments. Bayyaram mines will be given to Singareni. He said AICC leader Kuntia campaigning for Singareni elections is inexplicable. Wont privatize Singareni, RTC or electricity departments.
Action against abuses on Social Media
CM said that puerile gangs are writing unpleasant words on social media against the ruling party. He said the government welcomes constructive criticism but not blatant lies. KCR warned that any writings against the chief minister, ministers and the representatives of the public will face dire consequences.
Uttam Kumar Reddy is Dora
Deploring the opposition party's reference of "KCR Dora", the TRS supremo said that Opposition leader Uttam Kumar Reddy is a Dora. Dora is not a caste, it is a cult. I am not a Dora. Opposition is halting all the projects as they are unable to bear the development in the state. He critiqued V Hanumanth Rao for his statements that the government will give donkeys after giving sheep and buffaloes. KCR said former Deputy CM Damodar Raja Narasimha was hindering the Kaleshwaram project. He said TDP doesn't exist in Telangana.