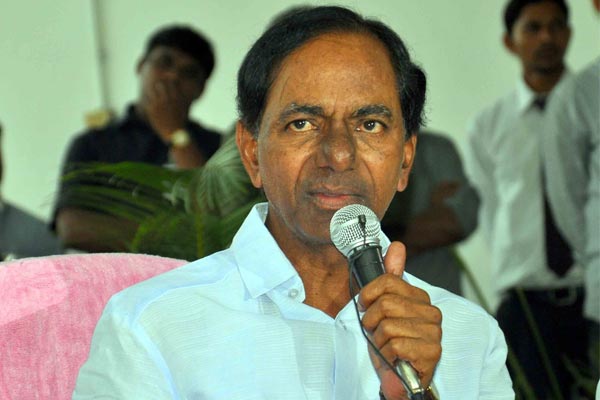 Water sharing disputes, coupled with legal wrangles makes K Chandrasekhar Rao's government ambitious plan to provide irrigation facilities to one crore acres seems to be derailed. Particularly he seems to be worried with the flare up sub-regional differences with regard to Kalwakurthy Lift Irrigation Scheme (KLIS).
The growing opposition against the state government's move to divert Krishna water through the Kalwakurthy Lift Irrigation Scheme (KLIS) in Nagarkurnool district to Nalgonda via the Dindi Balancing Reservoir, causing worry.
Earlier, local Congress MLA Ch Vamsichand Reddy took a padayatra protesting the government's move to divert Krishna water from KLIS. Reddy also lamented that the State government was trying to create water disputes between people. Now, Telangana Joint Action Committee (JAC), Kalwakurthy convener Ayila Sadanadam Goud wrote an open letter questioning the attitude of the TRS government.
Referring that alleged exploitation in water sharing led to birth of separate Telangana statehood agitation, he accused that like Andhras, ruling TRS leaders are trying to loot the water resources of Kalwakurthy people to benefit Nalgonda district farmers. He said that this should be opposed by all politicos belonging to Kalwakurthy.
The KLIS was earlier proposed to address the water needs of Kalwakurthy segment solely. Instead of addressing the needs of Kalwakurthy farmers, the government is now diverting the water to Nalgonda. He alleged that this is being done at the behest of Energy Minister G Jagadish Reddy, Nalgonda MP G Sukhender Reddy and other TRS leaders of Nalgonda.
Meanwhile, Chief Minister K Chandrashekhar Rao accused last week that irrigation projects high on the agenda of the State government are being targeted by the Opposition parties, particularly the Congress, pushing the government in thick of legal battles.
As many as five PILs were filed against the Palamuru-Ranga Reddy lift irrigation scheme. The Rs 9,800 crore Mallannasagar project is concerned as many 10 writ petitions were filed in the High Court, while another 29 writ petition were filed against GO 123 under which some 8000 acres of land was acquired for the project.