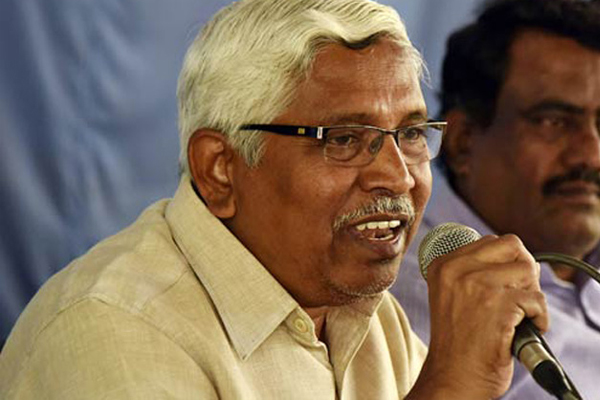 Prof. Kodandaram of Telangana Jana Samithi (TJS) has raised banner of revolt against the Congress by deciding to field their party candidates in three seats in violation of alliance. As part of Mahakutami seat sharing, Asifabad and Station Ghanapur seats were allotted to Congress but TJS has decided to field its candidates as well.
Kodandaram has also decided to bring in TJS nominee in Mahabubnagar segment which was allotted to TDP originally. TDP has also announced Erra Sekhar's name for contesting from here. Kodandaram is also expected to contest from Janagama, which is in the eye of a controversy as Congress leader and ex minister Ponnala Lakshmaiah is trying to get this ticket.
As part of seat sharing, Congress allotted 8 seats to TJS, 14 to TDP and 3 to CPI. The CPI has agreed for the seats given and began electioneering in their respective segments. But TJS is going against the Mahakutami agreement following pressure from within the party ranks.
The 12 seats that TJS is contesting are Mahabubnagar, Station Ghanpur, Asifabad, Dubbaka, Medak, Malkajgiri, Warangal East, Miryalaguda, Amberpet, Siddipet, Janagama and Vardhannapet. With the TJS decision to violate alliance understanding, Mahakutami leaders are concerned over its impact in other segments as well. Congress and TDP leaders are beginning damage control efforts to convince TJS and also their own leaders in problematic segments.