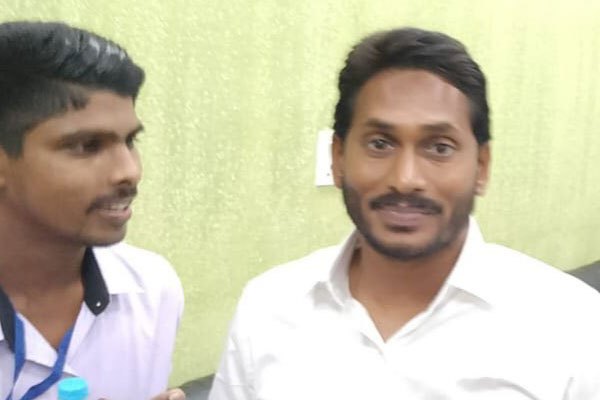 The Vizag police have finally concluded their investigation into the sensational October 25 'Kodi Kathi' murder attempt on Opposition leader Jaganmohan Reddy. The police dismissed the possibility of any attempt to murder Jagan in this case and they mentioned Janepalli Srinivasa Rao as the only person as accused. The police also said Srinivasa Rao resorted to the knife attack only to create a political sensation that would favour his favourite leaders in coming elections.
Visakhapatnam police commissioner Mahesh Chandra Laddah said the accused Srinivasa Rao has dreams of becoming an MLA and he had the opportunity to meet VIPs and political leaders at the lounge in the airport. Srinivasa Rao has no intent to kill Jagan but that creating sensation is the only motivation behind his act. He planned to attack Jagan on October 18 itself which could not be possible.
Janepalli Srinivasa Rao was found to have put out a flexi in his home place in which Jaganmohan Reddy's photo figured. His family members said they were fans of Jagan. Srinivasa Rao likes birds which is why he got 'Garuda' photo also figured in the flexi. The police clarified that there is no link between the present case and the Operation Garuda allegations. Srinivasa Rao earlier worked in Goa and also Kuwait but after working as a cook in a hotel, he came to Vizag.
G.Ravikiran
Telugu360 is always open for the best and bright journalists. If you are interested in full-time or freelance, email us at
Krishna@telugu360.com