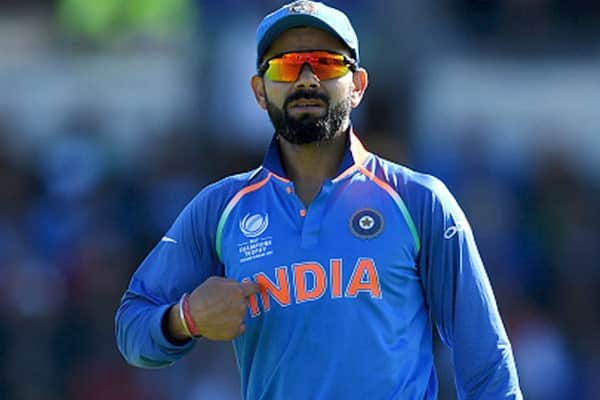 Asserting that the captain's role is more important than that of the coach, former Board of Control for Cricket in India (BCC) President Anurag Thakur has called for skipper Virat Kohli being allowed full control over the Indian team.
The Indian team, especially skipper Virat Kohli, has been at the centre of a controversy after Anil Kumble resigned as coach following a humiliating 180-run loss to Pakistan in the Champions Trophy final on June 18.
Kumble had hinted at differences with Kohli in his resignation letter to the BCCI. There have also been reports that several players were unhappy with Kumble's strict disciplinarian approach.
Some players were also reportedly unhappy after Kumble handed a harsh dressing down to the team following the defeat in the Champions Trophy final.
Following Kumble's departure, Vinod Rai, head of the Supreme Court-appointed Committee of Administrators (CoA), and several former players have come out in support of the legendary leg-spinner.
Thakur, however, defended Kohli and harked back to 2006-07 and the controversy between former India captain Sourav Ganguly and then coach Greg Chappell as an example.
"Why is extra pressure being created on Virat? It is not right to target Virat over these issues because this is not the first time such a thing has happened. Greg Chappell was also removed earlier.
"It has always been the case that the captain is more important than the coach. The captain's opinion is given importance even in selection matters because ultimately it is he who has to make the team perform," Thakur told IANS.
"Right now, there is no better batsman than Virat in Indian cricket. If we have to maintain the current standards of the Indian team over the next 10 years, and even improve our performance levels, then we have to depend on Virat," he added.
Thakur, who was forced to step down as BCCI chief following the implementation of the recommendations of the Supreme Court-appointed Justice R.M. Lodha committee, also took a dig at the present dispensation over the issue.
Observing that such controversies never took place during his stint with the board, the current head of the Himachal Pradesh Cricket Association (HPCA) alleged that the present BCCI management has "mishandled" the entire affair.
"As long as I was at the head of the BCCI, there were no controversies of this nature. We had conducted all our appointments in a transparent manner. The people running the BCCI at present should be asked why these things come into the public domain," Thakur said.
"My opinion is totally clear in this matter. Virat should be the boss of the team. He must be the boss, he is the boss. He is the captain of the team and that is why he should be the boss," he asserted.
Talking about the role of the coach, Thakur said: "The coach has his own importance. But it is the captain who leads the 11 players on the field, that is why his words and his needs should be given more importance."