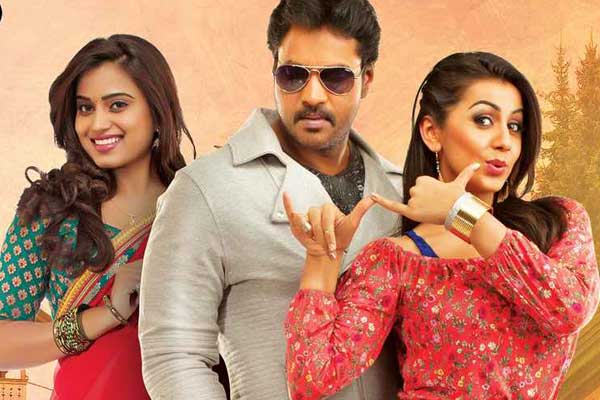 Krishnashtami Movie Review
Star comedian turned hero Sunil is making a comeback after a brief gap with Krishnashtami. Touted to be a family entertainer with loads of action, the film features Nikki Gilrani and Dimple Chopade as the female leads. 'Josh' fame Vasu Varma is the director and Dil Raju is the film's producer. Both Sunil and Dil Raju are super confident about the film's success and promoted it big-time. The trailers and songs have caught the attention of the audience and increased the expectations on this film which has hit the screens today. Let's us see if Krishnashtami lives up to the expectations or not. Here is our detailed review.
Story :

Krishna Vara Prasad(Sunil) is an NRI, who hadn't been visited India for 18 years , after he was sent to USA in Childhood. Disliking the marriage proposal that comes from his parents, Krishna tries to return to India to convince his parents. On his way from USA to India, connecting flight in Europe gets cancelled for 3 days and passengers go local pleasure trip. There he gets introduced to the heroine and they fall in love with each other.
As soon as he reaches India, story takes a crime turn,eventually Sunil ends up at Ajay's ( A Co-passenger in the flight) village and impersonates Ajay under unavoidable situation.Here comes now the second heroine who starts liking Sunil. A gang keeps on hunting for Sunil to kill him which he realises soon.
Why Sunil was unable to visit India for good 18 years ? Who conspires against him ? Who is trying to kill him and why ? which heroine he gets married to…to know the answers watch Krishnashtami.
Lead Actors :

Star comedian Sunil has looked not so excited about the project , his mark of energy was missing in the characterization. He danced OK in couple of songs but not so special steps.
Heroines Nikki Galrani and Dimple Chopade are big -ve for the movie. Former looked like a 40 plus woman, Latter looked like a group dancer.
Brahmanandam as "selfie Bulfi" is able to generate some comedy in couple of scenes and comedians Prudhvi, Saptagiri were wasted
What worked well ?

– Songs are rich
– One or two comedy episodes
– Family oriented story line
What should have been better ?
– Rest everything
Technicians :

Director Vasu Varma whose debutante movie Naga Chaitanya's Josh was failed, yet again failed to show any signs of merit. Music by Dinesh is mediocre and other technicians work also nothing mentionable
When TFI was delivering run of mill movies, Dil Raju used to produce tasteful, different movies. Now, when TFI is trying to do something different,it is surprising to see Dil Raju produce such pale and hackyneyed movies like Krishnashtami
Verdict:

A Disappointment. Both First half and Second half fails to impress the audience and overall this movie lacks anything that appeals to audience.
Telugu360.com Rating : 2/5