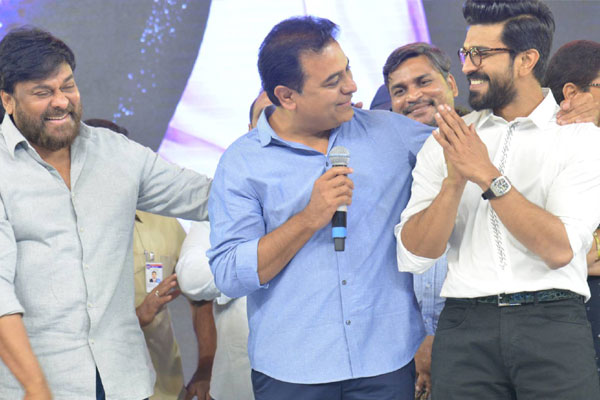 TRS working president KTR was chief guest at pre-release function of Vinaya Vidheya Ram movie. As everyone knows, he shares good rapport with Ram Charan. While speaking, KTR made some light-hearted comments about Ram Charan and told he may come into politics in future.
Earlier Ram Charan spoke at length about the film, about the artistes and technicians working for this film. But at some point, audience were shouting Pawan's name and Ram Charan gave a pause to his speech and told them he will definitely speak about Pawan at the end. But with this digression, he forgot his speech and paused a few seconds before coming back to the topic he wanted to speak. However, he later spoke at length about everything he wanted to speak, including about Pawan.
When KTR took over later, he appreciated Ram Charan for his speech. He told, Ram Charan's speeches are better than their election speeches and then on lighter-vein told, may be Ram Charan also come into politics in future. Through out the speech he called Ram charan as brother and reminded that he attended Dhruva audio function at the same venue earlier. He also told, Ram Charan's performance in Rangasthalam was outstanding and reminded that, during elections, he used Rangasthalam's song (Aa gattununtavaa, ee gattununtava) extensively without permission of Ram Charan and Devi Sri Prasad.
Anyway KTR's presence at audio function delighted mega fans.