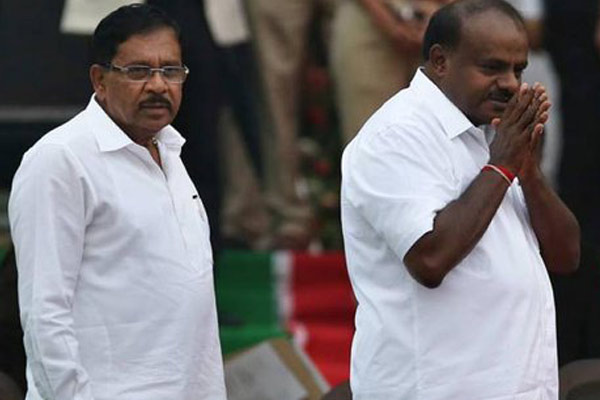 The Karnataka government led by Chief Minister H.D. Kumaraswamy on Friday won the confidence motion with a voice vote in the new Assembly after opposition BJP members walked out ahead of the floor test.
"The confidence motion has been put to vote and won by a voice vote in favour of Kumaraswamy," declared newly elected Assembly Speaker K.R. Ramesh Kumar.
The Janata Dal-Secular (JD-S)-Congress coalition government won the floor test as 116 members voiced their favour for the confidence motion.
After addressing the members and replying to an emotional speech by opposition Bharatiya Janata Party leader B.S. Yeddyurappa, Kumaraswamy moved the motion, saying "I seek the support of this house to the confidence motion".
Speaker K.R. Ramesh Kumar then put the motion to vote, which was backed by 116 members, including 36 of the JD-S, 77 of the Congress and one each of the Bahujan Samaj Party, Karnataka Pragnyavantha Janata Party and an Independent through voice.
Speaker Kumar did not vote.
As the 104 members of the BJP walked out before the floor test, Kumar declared that Kumaraswamy had won the motion by 116 voice votes with none against.
Though the Assembly strength is 225, including one nominated member, elections were held on May 12 in 222 constituencies only, which threw up a hung house, with the BJP emerging as the single-largest party with 104 seats.