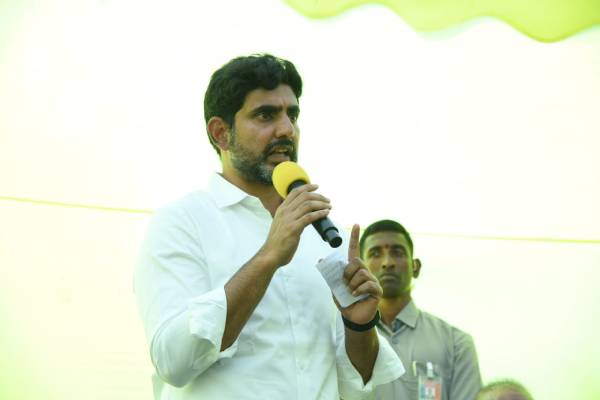 TDP general secretary, Nara Lokesh, on Monday demanded either a CBI inquiry or a CID probe into the massive illegal land occupations in Peleru.
In a letter addressed to Chief Minister, Jagan Mohan Reddy, the TDP national leader said that he abides by what he had said earlier on these land grabbing. "If you are daring enough, order either for a CBI probe or a CID inquiry into these illegal government land occupations," Lokesh challenged Jagan in the letter.
He also enclosed a copy of the District Collector's report on the matter and a copy of the video clipping of the statement made by local MLA, Chintala Ramachandra Reddy, on the floor of the Assembly.
Lokesh, who is on his Yuva Galam pada yatra, later told those who gathered in a massive scale to have a glimpse of their leader, that the TDP always wages a war against illegal land occupations in any part of the State. "What is surprising is that the State Government, instead of initiating action against those land grabbers, is fully cooperating with them," Lokesh said.
Pointing out that in Peleru alone this mafia grabbed 601.37 acres of land, Lokesh said that the District Collector ordered for an inquiry into these land grabbing in 2021 and the sub-collector in his inquiry report recommended action against the persons concerned.
There are reports that the State Government is not taking any action in this matter as the ruling party leaders are involved in it, he remarked.
At Chalamaiahgaripalli village in Penugonda Assembly segment, representatives of the Vaddera community met Lokesh in large numbers and submitted a memorandum to him in which they said that not even a single welfare scheme is being implemented to them, including Pucca Houses and Employment Guarantee Scheme.
Lokesh promised sanction of houses to them soon after the TDP forms the government, and all the welfare schemes will be implemented to them besides pucca roads will be constructed in their villages.
At Geenabandla of Gorantla mandal in Penugonda constituency, Nayi Brahmin community leaders met Mr Lokesh and made an appeal to him that pension be granted to those who crossed 50 years of age and the community leaders be given representation in the trust boards of temples.
Lokesh assured them that all the necessary measures will be taken for the welfare of the community and subsidy loans will be extended to those who are managing saloons.
At Gorantla, Lokesh was received by a huge gathering of people and some of the TDP fans are seen climbing trees to have a glimpse of their leader.