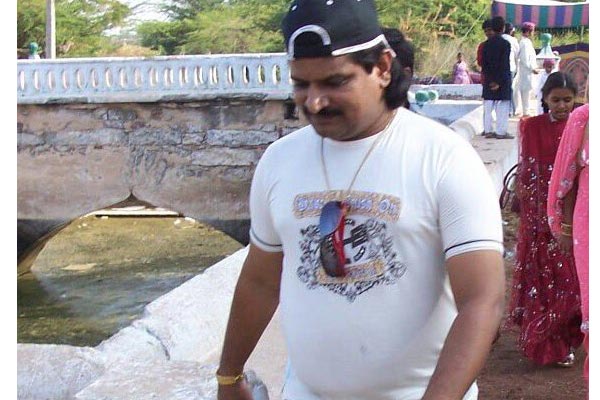 (S.Ravi Seshu)
A mafia don involved in land settlements.
An ex-Naxalite with a lot of vengeance against Maoists.
A grave threat to surrendered Maoists.
A murderer of civil liberties leaders.
An under cover operative of top cops .
The killer of a fine IPS officer KS Vyas.
An extortionist and gangster with Mumbai type of modus operandi.
A terror to politicians and rich merchants.
The creator of cobra gangs.
A pawn in state-sponsored terrorism.
A dreaded psychopath.
-This is how one can describe Nayeemuddin, who was killed in an alleged exchange of fire with police in Mahabubnagar district's Shadnagar town situated about 50 kilometers from the State capital of Hyderabad on Monday. A murderous criminal wanted in more than 100 cases grew to uncontrollable level with the blessings of a section of top police officers, who used him in their fight against Maoists.
Nayeem's associate was also seen fell to the police bullets while his driver fled from the scene in Millenium township though it is hard to believe that the former Maoist was moving with only three aides. Currency bundles are being discovered by police in Nayeem's hideouts till the last reporters came in. The State government had to 'act' against Nayeem as he had become a thorn in the flesh of many TRS leaders, including a legislator. Nayeem gang members are involved in many cases in Bhongir in Nalgonda district, the place he hailed from.
Known for his dare devilish acts, Nayeem went underground to join Maoists in 1989 but soon developed grudge against the top leadership for unknown reasons. He left the movement and surrendered to police. "Soon after coming from jungles, he started openly talking against Maoist leaders. He shot to fame with the gruesome murder of Belli Lalitha, a Maoist activist. His vengeance was so cruel that he cut her body parts into pieces and created terror by dropping them at various places," a reporter recollected. Thus Nayeem won the hearts of some top IPS officers, who strongly felt that they must have a private force to tackle the Naxal menace.
With the blessings of police and government Nayeem built up an empire in Bhongir and local youngsters, mostly muslims, joined in his gang with ulterior motives. Police bosses let him to carry out land settlements as he had to feed his gang. "There was a talk that some police officers used to have their cut in the booty. Middle-level police officers had to pay their respects to Nayeem since he was in direct contact with their bosses in Hyderabad," another Nalgonda-based journalist said. Nayeem was a member of the 21-member Naxalite team that murdered the then Hyderabad range DIG KS Vyas, IPS, on January 27, 1993 in LB stadium. The second accused in the case, Nayeem surrendered to police later. Top cops aided and abetted the criminal who had murdered one of the finest IPS officers much to the disappointment of Vyas friends in the department. The gangster escaped from police for a record number of eleven times, making mockery of the system!
At a time when civil liberties leaders started raising their voices against police atrocities, Nayeem gang slaughtered them in broad daylight. "Nayeem could wipe out about dozen civil liberties leaders, who otherwise would have lent their voice for poor and downtrodden. More than the killing, he could silence scores of civil liberties activists and intellectuals with his wild threats. He was successful in instilling fear in the civil liberties movement," a former rights activist, who had received threats from Nayeem gang for acting against the Government a decade ago, told this author. A teacher from Osmania University was allegedly kidnapped by the Nayeem team and he appeared two days later with tonsured head and mellowed down voice.
Nayeem literally played with the lives of surrendered naxalites. Those who gave up arms to lead a peaceful life were ordered by Nayeem to work in his gangs. "We have a great threat to our lives. Please save me and my family from Nayeem, who is terrorizing us. If we migrate to some other places to avoid Nayeem, police suspect that we are still in touch with Maoist operations. Nayeem is giving sleepless nights to surrendered naxalites with his threats," Konapuri Ramulu, a surrendered naxalite and younger brother of the then head of the Maoist State committee Sambasivudu, said. During the Telangana movement, both the brothers joined in TRS but both of them were brutally murdered allegedly by Nayeem's gang. Nayeem was allegedly trying to establish contacts with Islamic fundamentalists too, according to some reports.
Apparently to keep the Hindu members of his gang in good humour, Nayeem would frequently visited Ganesh idols during navarathri and lavishly dole out currency notes. "He visited some pandals in Nalgonda town too this year. He came to Nalgonda with private security since he had always carried the fear of death," another journalist said. In fact, reporters avoided writing against him fearing backlash from the psychopath.
People thought that the TRs government will tackle Nayeem soon after it came to power. But it took two long years for the powers-that-be to act upon on a mafia don, who posed a grave threat to the society.