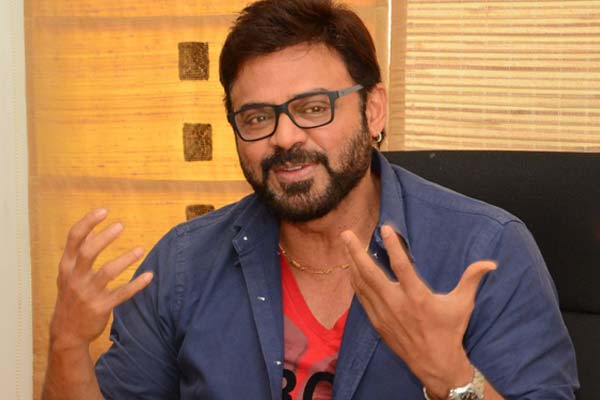 Victory Venkatesh never thinks of his image and he has done impressive films in his career till date. That is the reason, Venky has a high success rate when compared to other Tollywood actors. The actor is completing 30 years in Tollywood which is not easy and the actor is testing his luck with his next movie Babu Bangaram in the direction of Maruthi. The movie has been slated for release on August 12th and here are some of the excerpts of his latest interview:
Hi Venky:
Hi..
You have taken a huge gap after Gopala Gopala. Any special reasons?
Nothing like that. I never planned my films. I always waited for a nice script and after Gopala Gopala it took some time to find a nice script. Now after Babu Bangaram, I will be shooting for two back to back films. My next film will start within a gap of less than a month after the release of Babu Bangaram.
What is the reason for signing Babu Bangaram. How did Maruthi impress you?
I loved the story of Babu Bangaram which resembles its name. The characterization of the lead actor has been very impressive and I signed the film immediately. I have done such role years back and Maruthi too proved his mettle with the film. After the film Radha which has been planned has been shelved, me and Maruthi have been waiting for the right film and it is Babu Bangaram.
Nayathara is your lucky heroine and you are working with her for the third time. Any sentiment in roping her?
There is nothing like that. It was Maruthi who selected Nayanathara and impressed her with the script. She is professional and perfect. I don't have any such sentiments.
Nayanathara never makes it for promotions and it is her responsibility to promote her films. What do you say?
Nayanathara never promotes any of her movies and she commits films in such a way. It is her personal decision.
Senior heroes have been finding it tough to finalize the actresses in their films. Did you face any difficulties?
You are right. It has been quite tough in finding the female leads as we have been growing old. Some of our films have been getting delayed as we are unable to find the right actress.
Seems like you danced so much in Babu Bangaram?
Laughs… I tried my level best in my restrictions to dance well in the film. However I can't compete and shake legs like the young actors do.
You have done many remakes. Are you not disturbed with the tag of a remake hero tag?
It is not so. The basic story line is important and all my remakes have been massive hits. If I love the plot, I am ready to remake any film.
You wanted to retire during some time. What happened actually?
Retirement is not in my hands and it doesn't happen even if I feel to do. It is all in the hands of the almighty and fate decides everything.
When can we expect Arjun on silver screen?
My dad never forced me to become an actor and I too will never force my son. I will give complete freedom for him and he is studying 8th standard now. He has huge love for basketball and let's see if he turns a sportsman.
You have been showing lot of interest in Kabaddi these days?
I feel quite refreshed and get connected with any sport. I follow all the sports and remember each and everything about them. It is not my special love for Kabaddi.
When can we expect a multistarrer from Daggubati Family?
The work is currently under process and things are getting close. There are two scripts getting ready and if everything gets finalized, the movie will start next year.
Your next projects?
I will be seen in the remake of Bollywood movie Saala Khadoos which will start soon. I also signed a film in the direction of Kishore Tirumala.
Telugu360 is always open for the best and bright journalists. If you are interested in full-time or freelance, email us at
Krishna@telugu360.com