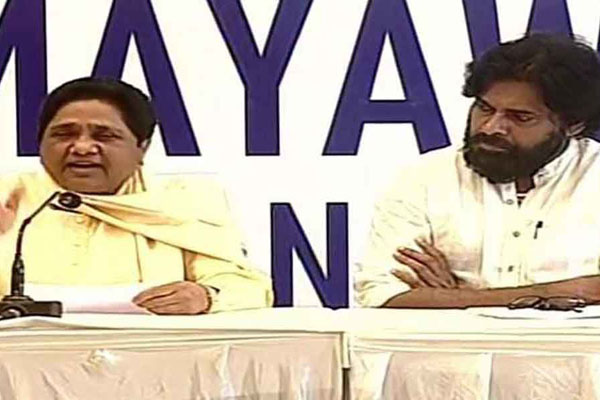 SC, ST, OBC and minorities in Telangana account for about 90 per cent population, then how can TRS supremo K Chandrashekhar Rao become chief minister as his community 'Velama' not even one per cent, questions BSP chief Mayawati, while calling upon the marginalised communities to fight for their due share in power politics.
Mayawati, who served as CM of Utter Pradesh (UP) for four times, along with Jana Sena chief Pawan Kalyan addressed at a public meeting organized at LB Stadium in the city.
"Only leaders from communities that account for 1.5-2 per cent are ruling the state. But, SC, ST and BCs account for 70 per cent and they're not included in the mainstream politics. KCR from Velama caste and it doesn't comprise just one per cent of the total population. Telangana population comprises more marginalized castes and I call upon all these communities to fight for their reasonable share in the power politics. After formation of statehood, the socio-economic conditions of SC, ST, OBC and minorities have not changed much," observed Mayawati.
The former UP chief minister has further asked Telanganites not to fall for fake poll promises of BJP and Congress.
Meanwhile, Pawan Kalyan has asked KCR not to meddle in AP politics, while requesting the Telangana chief minister not to have any hatred towards Andhraites. "I would like to see Mayawati as Prime Minister of India. Now, the time has come for India to have a Dalit PM. From this dais, I request KCR to spare Andhraites in his fight with AP chief minister N Chandrababu Naidu," remarked Pawan Kalyan.
Telugu360 is always open for the best and bright journalists. If you are interested in full-time or freelance, email us at
Krishna@telugu360.com