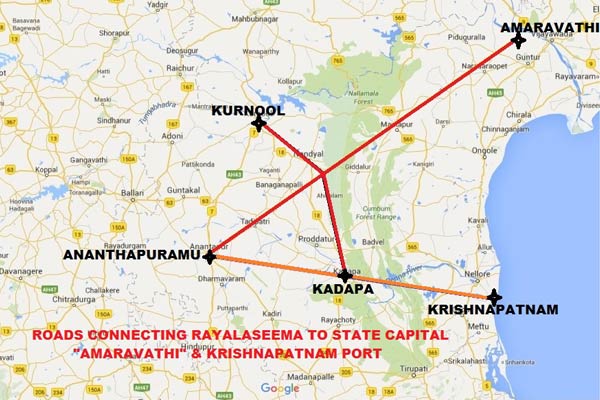 To remove the feeling that new capital Amaravati is foreign from the minds of agitating people of Rayalaseema, state government has approved a plan to build four-lane and six-lane roads  connecting the three district headquarters of the region with new capital Amaravati.  Take heart all those Rayalaseema people who feel Amaravati is faraway than Bangalore and Hyderabad,  the Rayalaseema region will not only be connected to Amaravati, but also the Krishnapatnam port. Along with the roads that connect Kadapa, Anantapuramu and Kurnool with emerging capital city Amaravati,  development of another road from Krishnapatnam, Kadapa, Gooty linking the Hyderabad-Bangalore will also be taken up. All these proposals got cleared by chief minister N Chandrababu Naidu on Tuesday night. In a highlevel meeting, held in temporary capital Vijayawada, Naidu reviewed the steps being taken to develop the roads in the successor state of Andhra Pradesh. Naidu instructed the official to develop the coastal road running from Itchapuram -Thada on the lies of the road laid between San Francisco and Las Angeles. A team of senior officials is expected to visit the US to study the coastal roads in US and Australia  along with other major countries that have beautiful roads, sources said.
The Rayalaseema-Amaravati Road will pass through Nallamala Forest area. Three four-lane roads – one each from Anantapur, Kurnool and Kadapa – will be laid and all the three would merge into a six-lane road in Nallamala forest area and would then be laid as single road to the state capital.
As per the present connectivity, the distance between Anantapur and Amaravati is about 472 km and if the  road is straightened as shown in the picture , the distance become is cut by 86 km. Without disturbing forest area or causing any damage to water bodies on the way, the road will to be laid. The total distance the road travels through the forest area would be only 25 km and two to three tunnels would have to be constructed. If this road is laid, the travel time between Anantapur and Amaravati would be only five hours. The two roads that would emerge from Kadapa and Kurnool will also join the Anantapur-Amaravati road. The total distance of all the roads put together would be 800 km.  The chief minister also cleared laying of a four lane road from Krishnapatnam to join Hyderabad-Bangalore Highway via Rapuru, Kadapa, chitvelu, Tadipatri, Gooty. Will these roads bring the hearts together?