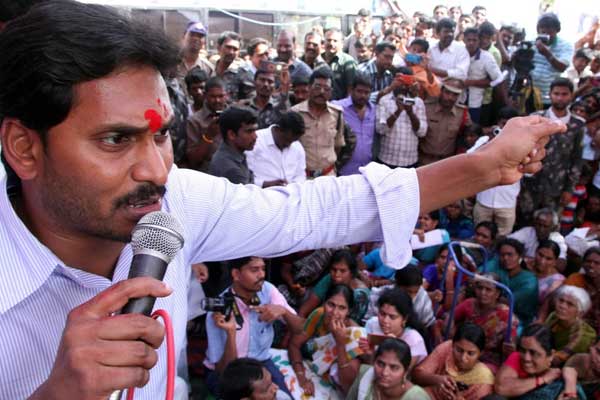 Lambasting the TDP government for its apathy towards weavers, farmers, women, students, pensioners and other sections of society, Opposition leader YS Jagan Mohan Reddy said that weavers were committing suicides in desperation as the State failed to come to their rescue in times of crisis.
'16 weavers have committed suicide in this Dharmavaram constituency alone during the 20 month-TDP rule. These tragedies are the result of government's backing out on its poll promises,' the Leader of Opposition said during a public interaction with people in this handloom-town on Thursday as part of the Rytu Bharosa Yatra.
Chandrababu Naidu had assured to provide housing, work-sheds, power, waiver of loans and 1.5 lakh interest-free loans to weavers but none of the promises was fulfilled and it had pushed the weaving community into penury resulting in the suicides, he said.
"Before elections, Chandrababu Naidu went on promising spree announcing loan waiver to farmers, DWACRA groups and weavers. He assured youth jobs and unemployment stipend. After coming to power he did not fulfill a single poll promise and had ditched all sections of people" he said.
The YSR Congress Party President had called locals on to the stage to narrate their plight. They flayed Chandrababu Naidu for his failure to keep up his promises. Farmers, weavers, women narrated how banks had rejected their loan applications.