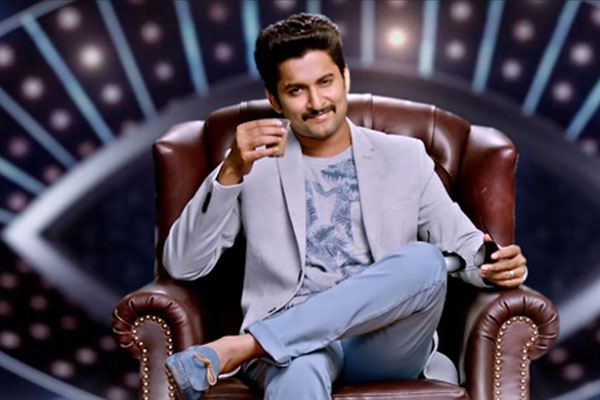 Nani today responded on negative comments about his hosting. Actually Nani is doing very good job as host for Big Boss 2. Jr NTR, host of the season 1, also praised Nani for his hosting skills. Even though he is doing good job, there has been criticism that he is being biased towards some of the housemates. Today Nani responded on those comments and put forward his point of view very firmly.
Actually , most of these critical comments are coming from Kaushal Army that has grown big in recent times and at some point of time was dictating terms to the show. If any contestant is fighting with Kaushal in the house, that housemate is trolled by Kaushal Army on social media platforms. These comments were some times crossing the limits, especially when they were aimed at women contestants. Some TV channels ran special stories on these abusive comments and reminded people it's just a game show. The same Kaushal army was lambasting Nani whenever he points out any mistakes of Kaushal. But to be frank, Nani was doing this to all contestants. In a tweet, today Nani responded on all this.
Nani tweeted, " Logged in to share something nice with all of you and I saw few of ur replies regarding BB .. the team believes that I need not reply but how can I not 🙂 So here's my last and only reply regarding the show- I am sorry guys if some of you here I feel so.. but you need to understand that you all watch the show from your point of view and want your favourite contestant to be treated specially every single time and I shouldn't be doing that as a host and give everyone equal chance from my side." He added that, "trust me every single one there equal to me" .
Nani also questioned these trollers, " regarding voting and eliminations, do you think I really have a say in it?, Ok.. then I leave it up to you.." . He concluded saying, " at the end my conscience should be clear.. and it is crystal clear".
We will have to wait and see how social media will respond to Nani's comments.
Logged in to share something nice with all of you and I saw few of ur replies regarding BB .. the team believes that I need not reply but how can I not 🙂
So here's my last and only reply regarding the show pic.twitter.com/xmnGTyf0Wx

— Nani (@NameisNani) September 4, 2018
Telugu360 is always open for the best and bright journalists. If you are interested in full-time or freelance, email us at
Krishna@telugu360.com