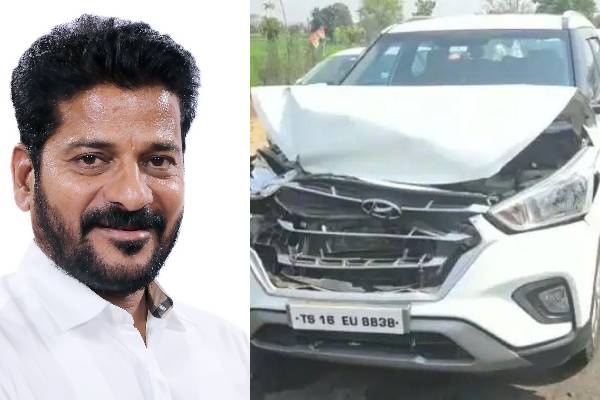 Six cars in the convoy of Telangana Pradesh Congress Committee president A. Revanth Reddy were damaged in an accident in Rajanna Sircilla district.
Few media persons travelling in two vehicles belonging to news channels were injured in the incident that occurred at Yellareddypet when Revanth Reddy was on his way for ongoing Haath Se Haath Jodo yatra.
Four SUVs, which were part of Revanth Reddy's convoy, were damaged along with two media vehicles. The collision took place when the driver of one of the vehicles lost control and hit the vehicle moving in front. The cars following the first vehicle also rammed into each other.
Revanth Reddy and other occupants of SUVs had a narrow escape. The balloons in these vehicles opened due to the impact of the collision saving the passengers from major injuries.
However, few media persons travelling in two cars belonging to news channels were injured.
Revanth Reddy later left in another vehicle.
Meanwhile, the state government has informed the Telangana High Court that Revanth Reddy has been provided security during the ongoing yatra.
The TPCC chief had filed a petition seeking direction to the government to provide security in view of a recent incident in which supporters of ruling Bharat Rashtra Samithi (BRS) attacked the yatra.
Additional DGP, Intelligence, informed the High Court that a fax message had been sent to all unit officers of places where Revanth's Haath Se Haath Jodo Yatra will pass through, instructing them to provide security.
Justice B. Vijaysen Reddy adjourned the hearing to Monday. He directed Revanth Reddy to inform the court whether he has been provided with security.