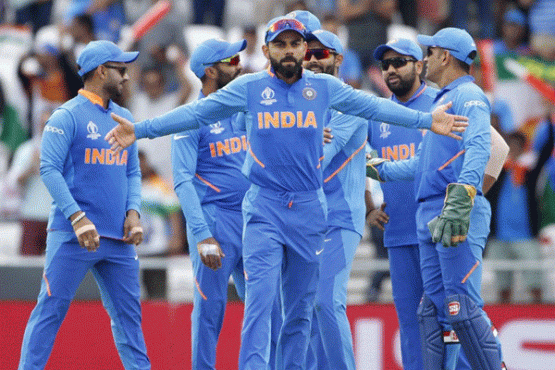 Even though Team India could not succeed in lifting the World Cup 2019 trophy, fans and supporters of the Men in Blue have been cheering the team and congratulating them for their dominating performance throughout the course of the showpiece event in England and Wales.
India, who dominated the group stage and finished at the top spot in the World Cup, had to face a shocking 18-run defeat against New Zealand in the semifinals, thus bowing out of the competition.
Virat Kohli's men had finished at the top spot in the league stage, winning seven games out of the eight they played (one being washed out). They defeated the likes of Australia, South Africa and Pakistan on their way to the semifinals.
Now, after their exit from the World Cup, a new "mauka-mauka" advertisement has come up paying tribute to Team India.
In the advertisement, a Pakistani fan can be seen making fun of an Indian supporter following their defeat in the semis.
"We played like champions in the entire World Cup," the Indian supporter tells the Pakistani fan in 2 minute 48-second long video. "We weren't depended on other team's results," he says in an apparent reference to Pakistan's scenario of making it to the knockout stage in the World Cup.
"We are a champion team which forces the opposition team to rethink about their existence.
"We just had a bad luck that day otherwise no. 7 would have once again made you cry," he tells the Pakistani fan.
When asked by the Pakistani fan as to why Indian fans flaunt even before winning, the Indian fan replies: "Everybody cheer for their team after winning and everybody criticize after the loss. However, we Indians are different and have a different style of cheering for our team. We expose the opposition way before winning and even if we lose, we chant 'India, India'."