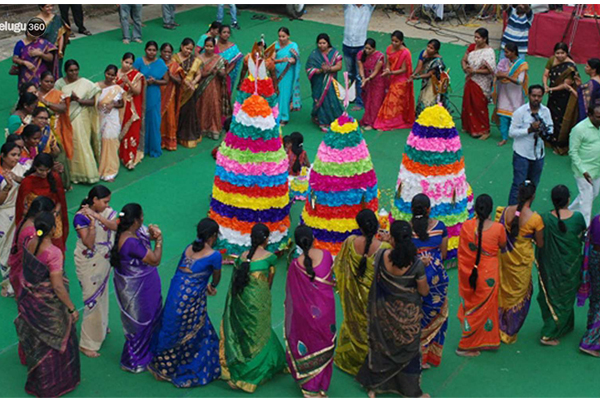 Hyderabad: Bathukamma, the nine day floral festival of Telangana was concluded on Tuesday. Telangana government which has released Rs 20 crore for the festival has made elaborate arrangement for the conclusion ceremony at Tank Bund here. The celebration began at 5.45 pm in LB Stadium.
Thousands of women in traditional attire thronged the stadium from various districts of state to celebrate the festival. Later MP and Jagruthi president Kaluvakuntla Kavitha and deputy speaker Padma Devendar Goud led a huge procession till Tank Bund.
Vimala Narasimhan and Shobha Kalvakuntla, spouses of Governor ESL Narasimhan and Chief Minister K Chandrashekar Rao respectively were seen playing Bathukamma.
Speaker S Madhusudhana Chary, Council Chairman Swamy Goud, Ministers Nayani Narasimha Reddy, Eatala Rajender, K T Rama Rao, Jagadish Reddy, Talasani Srinivas and MPs, MLAs were present at the event.
The laser show on Tank bund was the major attraction.
Ten tableaus from each district led the procession displaying the significance of each district. Government has decided to present top three tableaus with a cash price of 1 lakh, 75,000 and 50,000 respectively. Tableaus from Medak, Nizamabad and Adilabad were stood in top three.
People appreciated the government and police officials for making such grand arrangements.