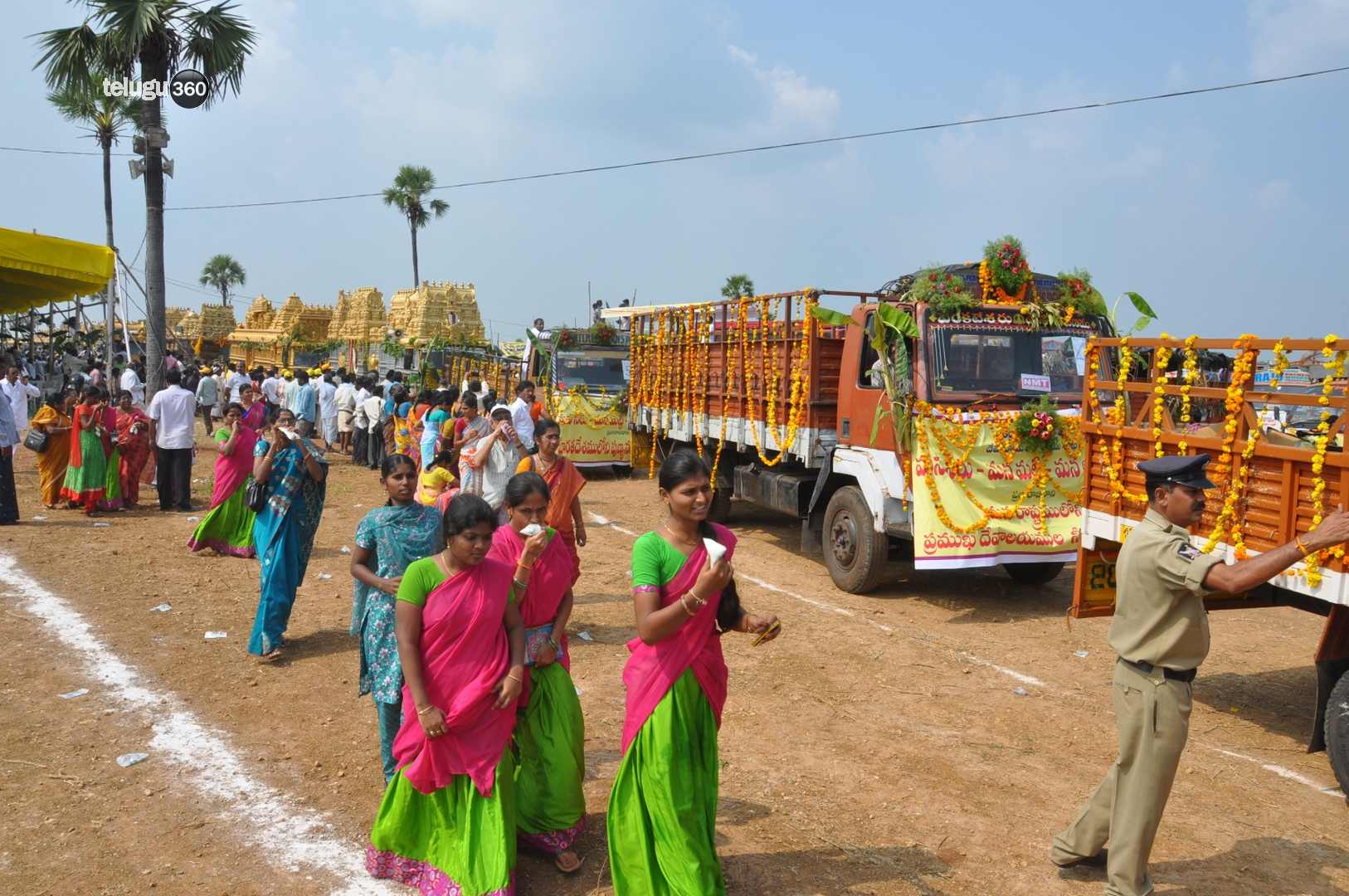 With the event that is going to herald a new phase in the history of Andhra Pradesh just 24 hour away, festive atmosphere is thick in the air everywhere in the Capital region of Guntur district and Vijayawada city with streets in towns and villages bustling with excited residents. The premises of all houses are decked up with traditional rangolis and colourful lights on the eve of the grand foundation laying ceremony that will be performed at Uddandarayunipalem in Guntur in afternoon of October 22, 2015.
Residents of Mandadam, Uddandarayunipalem, Krishnayapalem, Venkatapalem and abutting villages are literally in celebratory mood with most families inviting their relatives from far off places to witness the memorable event in which Prime Minister Modi is the chief guest. In Vijayawada, many government offices, guest houses, Prakasam Barrage, traffic islands, hotels and other establishments are being illuminated in the evenings for the event which is going to rewrite the history of the city on the banks of river Krishna.
While the district administrations are immersed in making elaborate arrangements for the successful conduct of the ceremony, villagers are getting ready to welcome a new festival into their calendar. From now onwards, October 22, will become a new annual festival for these people, which transformed not only geography of the region, their fortunes as well . For the past few days, the ambience has been exhilarating as the Amaravati ceremony coincided with Dasara Navaratri celebrations. The villagers from the capital region villages are thronging the area with their relatives to have a look at the place where foundation stone is being laid. The area, which is now taken into possession of SPG and NSG as part of the PM's high security arrangements, is out of bounds for the ordinary people, even for the farmers, on whose lands the spot falls. Many farmers, who are proud owners of the land till the other day, are visiting the area for the last time. At Thullur police station, villagers decorated the statue of NTR with serial bulbs and put up banners to welcome VVIP guests to the Capital region. The villages are reverberating with classic hits from NTR movies and youth dancing to the songs.